Engineering Leadership Professional Development Program
Are you a high-potential employee seeking to move up within your organization? Do you aim to be better and more valuable than your competition? This may have seemed out of your grasp...until now.
Distinguish Yourself as a Leader
From biomedical to aerospace to computer and many more, there are a multitude of engineering specialties and careers. To excel as a leader in your field, it is important to have a foundation for leadership that can be implemented and measured across multiple disciplines. This professional development program offered by Professional & Continuing Education at Chico State, in partnership with Zschool and taught by expert faculty, will provide you with the ability to interact as a leader, develop your skills as a leader, and execute as a leader within multiple types of engineering environments.
In-Depth Leadership Skills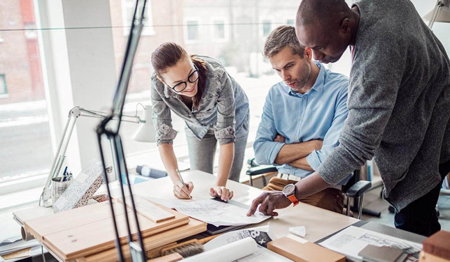 Through the Engineering Leadership Development Program curriculum, you'll learn to:
Analyze styles of leadership and associated skills.
Demonstrate effective communication skills across a variety of mediums and cultures.
Demonstrate an understanding of how to lead innovative projects for scalability.
Create a positive organizational culture that fosters leadership, mentorship, and team building.
Uphold ethical and moral standards, with consideration of impacts on social, political, economic, and technological issues.
Opportunities to Excel
Ready to Level Up? Break away from your daily routine and immerse yourself in real-life challenges, expert thought leadership, strategy sessions, innovation frameworks, and multiple engineering cultures, from technical, to mechanical, to managerial. This program will give you the opportunity to learn how to:
Successfully lead and participate as a member of multidisciplinary teams in diverse cultural environments.
Apply critical thinking to design solutions to complex problems.
Who Should Attend
The Engineering Leadership Program at California State University, Chico is appropriate for high potential employees seeking to move up within their organization, as well as engineering professionals seeking to increase their leadership skills and effectively work within the team environment.
• Biomedical engineers • Electrical engineers • Chemical engineers • Mechanical engineers • Computer engineers • Aerospace engineers • Civil engineers • Petroleum engineers • Automotive engineers • Engineers from all fields in administrative, mid-level management, and executive positions.

Registration

For more information or to reserve a seat, please email Megan Taylor.

* The Cybersecurity for Executives Professional Development Program is offered in collaboration with Zschool.