Online Program Curriculum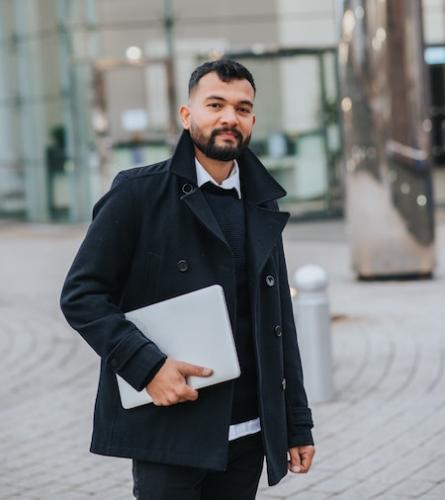 All business organizations today can benefit from professionals with sharpened cybersecurity skills. The average cost to a company that falls victim to a malware attack is $2.4 million, in addition to an average of 50 days of lost productivity. With the potential costs so high, mitigating the very real risk of cyberattacks should be among every professional's top priorities. To help you get started, our course addresses the issues that matter most, covering high stakes security topics identified by top CISO's as the ones that keep security professionals up at night. Our training curriculum below outlines module learning objectives, topics to cover, and exercises to help your comprehension and keep your organization safe from cybersecurity attacks.
Module 1: Fundamentals of Cyber Security & Current Standards
Discover the foundation of cybersecurity by identifying the structural components of cyberspace, its basic architecture, and the essentials of identifying and managing risk.
Understand the basic terms, trends, frameworks, and general risks of cybersecurity.
Establish important countermeasures and incident planning guidelines.
Learn how CMMC benefits everyone from basic to advanced.
Module 2: Cyber Laws, Regulations, & More
Focus on the laws, privacy systems and regulations that govern operations within the U.S. and other nations, and the regulatory model that should be implemented to protect an operation from cyber-attacks.

Uncover the tools to protect internet governance.
Discover the importance of CISA and DFS regulations.
Take a deep dive into the DHS and expose their systems of protection.
Analyze regulations including cyber measures, legalities, liability, and information sharing.
Explore the variations of U.S. and China's cybersecurity laws.
Module 3: Deep Dive into NYSDFS & GDPR
Examine the difference between NYSDFS 500, GDPR, and other regulations being introduced throughout the world, and how NYSDFS has implemented regulations mimicking GDPR standards.

Learn the 6 requirements of the NYSDFS regulation.
Discover the key principles of the GDPR and importance of compliance.
Module 4: Cyber Risk Vectors
Uncover the essential components of risk assessment and mitigation policy when you survey the vulnerabilities essential to cyberspace and explore the methods and resources to exploit those vulnerabilities through attack chains or vectors.

Learn to characterize the system: process, function, application.
Identify threat, expose inherit risk and impact, and develop a plan of action.
Discover ways to analyze and control the environment.
Module 5: Significant Cyber Incidents
Explore the most common threats from cyber-attacks to detect and repair deficiencies and develop a foundation to understand risk vectors and regulatory awareness.

Learn how a cyber virus can breed rapidly with a lethal result.
Discover how to see through the harmless disguise of a Trojan horse.
Decode the fraudulent claims behind spam and phishing.
Identify the 3 main types of Denial of Services.
Examine the best practices to avoid unauthorized access.
Module 6: Digital Breach Response
Develop three important protection plans for incident response and learn how the recovery time objective (RTO) is vital in the aftermath of a disaster.

Understand incident response goals: minimize damage, protect data, recover quickly.
Discover the 5 elements of business impact analysis.
Identify the steps needed for business continuity and disaster recovery planning.
Module 7: Cyber Privacy, On-Premise, Cloud, & Virtual Response Management
Understand the differing strategies of successful deployment for technical solutions and determine the regulatory requirements for data privacy and security.

Identify the difference between privacy and security.
Develop a defense strategy by comparing cloud and virtual deployments to on-premises models.
Examine the 3 main cloud computing models: PaaS, IaaS, SaaS.
Module 8: Cyber Strategy & Defense
Discover the fundamental principles of cyber defense, and how to develop and implement a strategy to ensure your operation is secure and protected.

Learn how to determine what is needs to be protected.
Uncover the difference between risk appetite and risk tolerance.
Identify the tools needed to establish a disaster recovery plan.