Program Highlights | Curriculum | Instructor
The demand for Blockchain Engineers is expected to grow rapidly over the next several years. Top tech moguls are re-focusing their sights on cryptocurrency. Small businesses may one day accept crypto payments and see their credit card processing fees disappear. Powerhouse organizations of the future will be built on blockchain technology. NFTs are a fundraiser's new opportunity. The long-theoretical "Web3" is becoming reality.
Whether your goal is to better understand these emerging technologies and their impact on society or to take the first steps on a new career path, the fully-online and self-paced Fundamentals of Cryptocurrency and Blockchain Technology program provides clear, beginner-friendly lessons that cut through the tech jargon and introduce you to a new world of technological innovations and interactions.
About the Program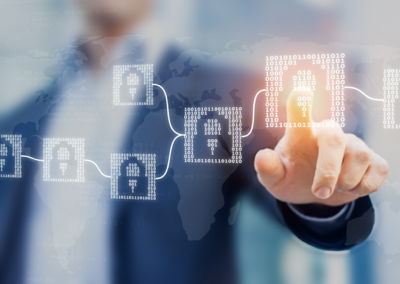 This six-course series will introduce you to the world of cryptocurrencies and blockchain technology. You will begin to understand different protocols and their real-world applications, from Bitcoin to Ethereum to non-fungible tokens (NFTs). By the end of this series, you'll have a solid understanding of blockchain technology, know how to conduct cryptocurrency transactions, and be able to differentiate the many types of cryptocurrency that exist today.
Courses:
Structure:
Fully online and asynchronous courses for flexibility and convenience allow you to learn on your own time and at your own pace.
Have access to the course material for six months.
Complete pass/no pass quizzes to gauge your mastery of the content.
Earn a certificate of completion for successfully completing all six courses.
Cost:
$325 per course; $1,800 for the series*.
*To receive the series price, full payment is required at the time of registration.
Registration
Registration and access to the online courses open April 1. Please add your name to the list at right to be notified when it's time to sign up.
Curriculum
Participants can take any number of individual courses, or take all six to complete the series.
Course 1: Blockchain
Learn what blockchain is and what it might mean to you. Blockchain was introduced to the world as part of Satoshi Nakamoto's 2008 Bitcoin Whitepaper, enabling a new way of transacting with anyone in the world but also introducing a new type of database that is a more secure, efficient way of recording data. This course covers how blockchain technology works, why it's valuable, and how it will shape the future of the internet.

Topics Include: What is Blockchain?, Advantages of Blockchain, How it Works, Encryption, Hashing, Consensus, How Blockchain is Used Today
Objectives:
Learn what blockchain technology is and how it works.
Learn how encryption, hashing, and consensus work in blockchain.
Identify how blockchain is used today.
Explain why blockchain is valuable outside of cryptocurrency.
Understand why consensus mechanisms are valuable and how they differ.
Course 2: Intro to Cryptocurrency
Learn what cryptocurrency is and how you may want to get involved. Bitcoin was the first cryptocurrency introduced in Satoshi Nakamoto's 2008 Bitcoin Whitepaper, enabling a new way of transacting with anyone in the world. It has given way to an alternate financial system that is global, peer-to-peer, and faster than our existing system, but is also still in its early days with Decentralized Finance (DeFi), NFTs, and many other technologies in development. This course covers how cryptocurrency works and how it may shape the way we transact in the future.

Topics Include: What is Money, What is Cryptocurrency, Crypto Regulation, History of Cryptocurrency, Debunking the 7 Myths of Crypto
Objectives:
Learn what money is and how it's evolved over time.
Learn how to describe cryptocurrency in your own words.
Understand the advantages and disadvantages of cryptocurrency.
Course 3: Bitcoin
After the financial crisis in 2008, a mysterious whitepaper published by the pseudonymous Satoshi Nakamoto introduced the world's first cryptocurrency: Bitcoin. Since its inception, Bitcoin has kicked off a global revolution of our existing financial system, introducing blockchain technology and a new way to transact directly with our peers around the world. This course will cover why Bitcoin was created, how it works, common arguments for and against Bitcoin, as well as how to store and use Bitcoin.

Topics Include: Intro to Bitcoin, How Bitcoin Achieves Decentralization, Bitcoin Mechanics, Arguments For and Against Bitcoin, Bitcoin v. Gold, How to Store and Use Bitcoin
Objectives:
Learn what Bitcoin is and why it was created.
Understand how Bitcoin works and why it is valuable.
Learn how mining controls supply of Bitcoin.
Explain why Bitcoin may increase or decrease in value over time.
Identify how Bitcoin may disrupt our traditional financial system.
Course 4: Alt-coins, Tokens, and NFTs
Alt-coins, tokens, and NFTs have erupted in the cryptocurrency world over the last decade, giving way to an entirely new ecosystem of blockchain-based projects. With digital art selling for millions of dollars and alt-coins powering DeFi, this course will get you up to speed on what is happening in this new digital world. Learn about alt-coins, stablecoins, digital tokens, and native cryptocurrencies. Understand NFTs, how they work, and how they are being used today.

Topics Include: Intro to Alt-Coins, Digital Tokens, Stablecoins, Mining vs. Staking, NFTs
Objectives:
Learn what alt-coins are.
Understand different types of alt-coins.
Identify the differences between mining and staking.
Explain how NFTs work, why they have value, and how they are popular today.
Understand Proof of Work and Proof of Stake consensus mechanisms.
Learn how NFTs maximize earning potential for users.
Course 5: Transactions, Exchanges, and Wallets
Learn the underbelly of the cryptocurrency world: transactions, exchanges and wallets. This course will teach you everything you need to know in order to buy, store, and trade cryptocurrency. We will cover how transactions work on the blockchain, what cryptocurrency exchanges are and how they work, as well as how to store cryptocurrency in digital wallets. Understand how public and private keys work, as well as best cybersecurity practices. * This course is not financial advice.

Topics Include: Transactions on the Blockchain, Exchanges, Privacy, Wallets

Objectives:

Learn how transactions work on the blockchain.
Understand cryptocurrency exchanges and how they differ.
Identify different types of cryptocurrency wallets and their pros and cons.
Learn best practices around storing cryptocurrency safely.
Course 6: Future of Blockchains
Learn how blockchain is being used today and what it might mean to you. Blockchain was introduced to the world as part of Satoshi Nakamoto's 2008 Bitcoin Whitepaper, enabling a new way of transacting with anyone in the world, but also introducing trust in the digital age. This course covers how blockchain is valuable, what the current blockchain ecosystem looks like today, and how it will shape the future of the Internet.

Topics Include: Intro to Future of Blockchains, Trust in the Digital Age, How Blockchain is Valuable, Blockchain Ecosystem Today, Real-world Use Cases, Looking Ahead
Objectives:
Learn how blockchain technology is being used in the world today.
Understand how blockchain could potentially be used across industries.
Explain why blockchain is valuable, both in and outside of cryptocurrency.
Identify ways blockchain and cryptocurrency can bring innovation to other industries.
Instructor
Samantha Mullett
I'm Samantha Mullett, a cryptocurrency expert and blockchain consultant who has worked in technology for close to a decade. The concept of decentralization and distributing power from the condensed to the collective is what initially sparked my interest into cryptocurrency. I was caught by the Bitcoin bug in San Francisco where I spent most waking hours outside of my day job going to lectures, meetups, and any conference I could get into. I read every cryptocurrency book published at the time and networked heavily to grasp what was going on in the industry. It was new, there was no formal education at the time, and I wanted to be in the center of it.

I've always been drawn to making sense of complex systems. As a writer and educator I began to weave the three together and help early crypto projects write their Whitepapers so that they make sense to the general public. I went on to publish material for startups, tech giants, non-profits, and more.

In 2019, I became a cryptocurrency crime expert working at Chainalysis, where I ran training programs for investigators to learn cryptocurrency analysis in order to help them solve financial crimes. While there is a misconception that cryptocurrency is used by criminals (illicit transactions make up ~1% of total transactions, where illicit transactions in cash is close to ~5%), cryptocurrency can actually be used as a valuable investigative tool since it provides a trail of data to follow. Alongside this, I became an expert on KYC and learned more about the regulatory and compliance environment. Gaining greater insight to how our traditional financial system is working with cryptocurrency provided a platform for me to communicate new policies to the public in a way that makes sense.

I'm an active member of she256, a non-profit dedicated to increasing diversity within the blockchain industry, and I have run educational workshops for a wide variety of organizations to teach the fundamentals of blockchain. I'm excited to work with you as your guide into this fascinating new ecosystem.