Archaeological Field School 2023: Field Conditions
The region of the northern Sierra Nevada we'll be working in ranges in elevation from 3,000–7,000 feet. Summers are hot and typically reach a high temperature of 80–90 degrees, but can be as hot as 100 degrees. Overnight lows can dip into the 40s. Wagontire shelter is situated in the Little High Rock Canyon of northwestern Nevada at an elevation of 6,000 feet. Summer highs temperatures typically reach the 90s, and lows dip into the 40s. Rain and wind occur occasionally in both locations. You are encouraged to layer your clothing and have adequate rain gear to keep yourself dry and comfortable throughout the day and night in each location.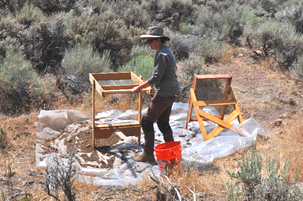 While the work we will do is not extremely challenging, it is important to keep in mind that it is taxing to work in rugged conditions. Be prepared for physical work and life without certain amenities and comforts during each ten day field segment. We will typically spend a combined eight hours each day traveling to the field site and working. Be prepared to perform camp chores, including cooking, upon your return each afternoon. Hazards in both field environments include heat, rugged terrain, rattlesnakes, and stinging insects. Poison oak is prevalent at the lower elevations of the Sierra Nevada. To protect yourself from these hazards, wear a hat, sunglasses and sunscreen every day. Make sure you have a pair of sturdy hiking boots and the capacity to carry a full day's worth of water (3 to 5 liters) with you. [View/download a list of recommended field gear.]
In the case of an emergency, the following medical centers will be used to treat all students.
For the Northern Sierra Nevada:
Banner Lassen Medical Center
1800 Spring Ridge Drive
530-252-2000
For Wagontire Springs:
Surprise Valley Community Hospital
PO Box 246, Cedarville, CA 96104
530-279-6111 | admin@svhospital.org