Application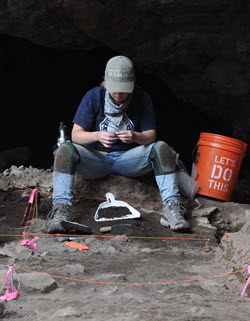 The field school welcomes anyone who is a college-level student. All field school attendees will be enrolled in their choice of ANTH 380 or ANTH 480 and receive four units. We do not have any prerequisites for this course, but an introductory archaeology class would be beneficial.
The cost of the field school is $2,800. This includes tuition, transportation from the CSU Chico campus to the field sites and meals. Students are responsible for providing their own camping gear and personal field equipment. [View/download list of recommended items.]
Students are also responsible for their own food and lodging during the break between field school segments from July 17–20. Room and board is available in a Chico State campus dorm for a fee of $25/day. Please contact the field school directors for more information about this option.
Download, complete, and sign the Field School application, and email completed applications by March 6 to Dr. Matt O'Brien (mjobrien@csuchico.edu) and Dr. Carly Whelan (cwhelan2@csuchico.edu). Students who are accepted to the program will be required to place a $500 deposit by May 1 to hold their space. This deposit will be subtracted from the total cost of the field school.
A scholarship to waive the $2,800 program fee is available to one student for the 2020 Archaeological Field School. To be considered, please complete and return the scholarship application by February 28.
Program Deadlines:
• Applications due March 6
• $500 Deposit Due: May 1
• Final Payment Deadline: June 4