About the ALCI Chico Program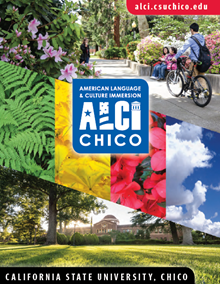 The mission of the American Language and Culture Immersion (ALCI Chico) at California State University, Chico is to provide high quality language instruction, knowledgeable and supportive counseling, and a compassionate bridge between cultures.
ALCI Chico invites you to study English and experience American culture in a safe, affordable, campus environment in northern California. We encourage you to explore the many educational opportunities both inside and outside the classroom at California State University, Chico.
Find out why thousands of students around the globe have found Chico to be an excellent place to learn English and prepare for their academic success. Come to Chico State, meet new friends, enjoy beautiful California and learn English!
High Quality Intensive English Program
English instruction year-round, scheduled in five, 7-week sessions
Instruction and contemporary curricula for all proficiency levels from beginning to advanced
Classes are held 20-25 hours per week
Average class size is 13 students, 20 students maximum.
Core courses include speaking, listening, reading, writing, and grammar
Elective courses include TOEFL preparation, Business English, pronunciation, American idioms, math preparation, and special interest topics
Great Faculty and Instructional Staff
Professionally educated and hold a Master's degree (MA) in English with a concentration in TESOL (Teaching English to Speakers of Other Languages) or a related field
Members of professional educational organizations - NAFSA, AAIEP
Experienced in teaching ESL (English as a Second Language) in the United States and overseas
Familiar with the challenges of learning a second language because they have studied foreign language
Responsive to diverse learning styles and cultures
Access to University Courses and Degree Programs
Open University
Eligible students may attend regular CSU, Chico courses through Open University.
Conditional Admission to the University
Conditional Admission to the University is designed for undergraduate students who have not yet met the University's English proficiency requirement.
Admission to California State University, Chico
International students may apply for undergraduate or graduate admission to CSU, Chico through the Office of International Education.
Certificates and Evaluation
The American Language and Culture Immersion, Chico awards three types of certificates to recognize student achievement: attendance, completion, and proficiency. The type of certificate you receive depends on the grades you earn and your language proficiency level at the time you finish your studies. Your academic performance will be continually evaluated and grade reports will be issued at the end of each session.
TOEFL
A TOEFL score is usually a requirement for college and university admission for non-English language speakers. TOEFL preparation classes are offered year-round through ALCI. The TOEFL iBT examination is administered on campus.
Conversation Partners
To enhance English conversation and for cultural immersion, the Conversation Partner program pairs ALCI Chico students with local students and staff. Partners meet weekly to chat in informal situations. This gives ALCI students a chance to practice speaking English with native speakers and to learn more about the California culture. American students have the chance to learn new cultures and make international friendships.
English Proficiency Placement
During orientation, your language proficiency in listening, speaking, reading, and writing will be assessed. Your class level will be determined based on your test scores.
Custom Language and Professional Programs
We also specialize in custom-designed programs for businesses, government agencies, athletes and international universities and institutes. Contact us for details.