Improve Your English at ALCI at California State University, Chico
The American Language and Culture Immersion (ALCI Chico)
Students of all Nations! You Are Welcome Here!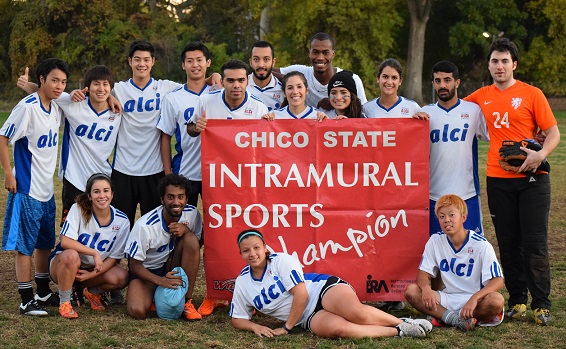 The faculty, staff and students of the American Language and Culture Immersion at California State University, Chico welcome you to learn at our University. We are an inclusive program and believe in active student engagement, the free expression of ideas, and unity through diversity.
Located on the Chico State campus, we offer five, seven-week sessions of intensive English language instruction per year to international students of all proficiency levels, from beginning to advanced. Our faculty and staff can support your transition from an intensive English language program to an academic program at Chico State or to other colleges and universities in the United States.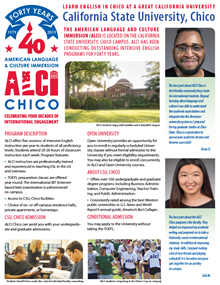 We provide general English language skills for your personal and professional growth, as well as an introduction to American culture and the higher education system in California and the United States. Find out why thousands of students around the globe have found Chico to be an excellent place to learn English and prepare for their academic success.
Come to a great University, enjoy beautiful Northern California, meet new friends, and improve your English! #YouAreWelcomeHere
ALCI Chico Features
A safe, beautiful campus, in an affordable, California college town.
Excellent faculty presenting high value intensive English language courses and a proven curriculum
Small classes with individual attention from experienced faculty and friendly staff.
Conditional admission and access to regular University degree programs and courses for qualified students.
Use of campus facilities including computing, library, health center, recreation and sports facilities.
Great housing options. Affordable dorms, apartments and homestays.
Full schedule of fun, social, recreational and cultural activities.
Year-round instruction with a full schedule of courses.
Conversation partners to help you practice your English with native speakers.
ALCI Chico Special Offerings
Open University - Take regular California State University, Chico classes.
Conditional Admission - Undergraduate and Graduate Student Conditional Admission to the University without taking the TOEFL. Apply to Cal State Chico pending your English language proficiency assessment.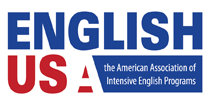 Prepare for the TOEFL, TOIEC, and IELTS exams with ALCI Chico preparation courses and testing offered year-round.
Math Preparation Courses - Prepare for University entrance exams or college-level math in courses customized for English language learners.
Special and custom programs creation.
ALCI Chico News
The Fall 2 Session has a terrific group of students in in regular academic classes, as well as Acting/Pronunciation, and Survival English electives. In addition to their academic work, students have enjoyed a number of cultural and recreational activities, including campus events, hikes in Upper Bidwell Park, a Sierra Nevada Brewery tour, and a Thanksgiving celebration. Coming up isd a brand-new day trip to Nevada City for a Victorian Christmas celebration. The session will wrap up on December 13, and we look forward to a new decade starting with Spring 1 orientation on January 16, welcoming IEP students as well as the Naha Nikkei special short program.

The ALCI United women's soccer team began league play and did great in their first game! We are so excited to watch these women in action this season.

ALCI Chico welcomed new students traveling from home countries including Japan, Kuwait, Mongolia, and Libya for our Summer 2019 session.

Farewell Otsuma Women's University students and congratulations on a successful short program at ALCI Chico. You were so much fun and we miss you already!

Naha Nikkei Business Vocational School participants completed the Spring Higher Education Preparation Program. It was an honor to host them at ALCI Chico! Read more about their visit.

Congratulations ALCI United Football - Chico State Intramural Soccer Champs Once Again!

Well done, Okinawa Global Leadership Program students and teachers! We were honored to host you in Chico.

Congratulations to Shinshu University Students on a Successful Session!

Learning About Fermentation by Making Kimchi!
ALCI Chico Translated Fact Sheets