As we reflect on the new year and what 2015 will bring, we find ourselves contemplating the importance of being present, cherishing each moment, and discovering the beauty in the details that surround us. Often we rush from place to place, our brains filing away what just happened and preparing for the next task at hand. Focused inward, we fail to notice, to truly see, what makes our campus home so wondrous.
And so we decided to slow down and capture some of these, and hope that you, too, will delight in the details.
Doves of Peace & Good Tidings
Eave Closures Around the Center for Continuing Education Building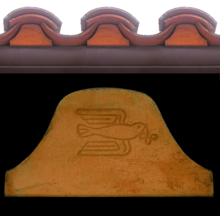 Along the edge of the tile roof of the Continuing Education building site wonderful tile "bird stops" stamped with a dove. Though in place for years, we just had the pleasure of seeing them for the first time. Wendy Burley, of MCA Tile, gave us some background on the tiles:
MCA (Maruhachi Ceramics of America, Inc.) is the only tile manufacturer to stamp its Eave Closures, otherwise known as Bird Stops, with this particular symbol. The image, a dove with an olive branch in its beak, symbolizes peace and good tidings. It was added after Yoshi (Murahachi) built the MCA factory in 1985 hoping that it would bring good fortune and prosperity to people.
What a lovely symbol on the roof that shelters us each day!
Monoliths
Northwest Corner of Ayres Hall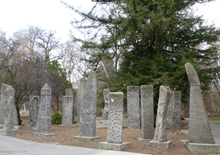 "Beside Ayres Hall, the art building at Chico State, is a series of sculptures that look like ancient standing stones. A few are signed – James Moody, John Hubenthal – though most are anonymous. The work has no label for a title or date. One stone bears a handprint as a sort of de facto signature that is at once more personal and more anonymous than a name. They lean. One seems to have toppled over entirely. They bear markings and symbols that seem an eclectic catchall of ancient symbols.... They are a fitting accompaniment to Ayres Hall, to a department containing studio art practice and art history (as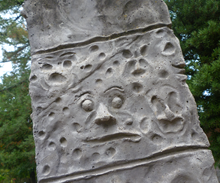 well as interior design and art education), as they are contemporary works, deeply steeped in historical traditions. One of the stones encourages the viewer, through an inscription, toward "Serenity, courage, wisdom." I often see students sitting here, perhaps in the hopes of finding all three." ~ Asa Mittman, Professor of Art History at California State University, Chico.
"Gretel" Metal Sculpture
Metal Door in West Side Wall of Ayres Hall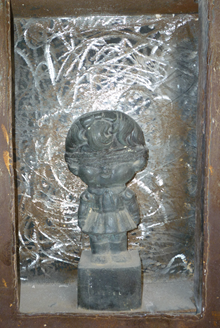 "We can be completely captured by the smell of a flower, the beauty of a tree, the sound of a child's laugh, the elegance of a landscape, the wonder of modern technology, the taste of a potato chip, or anything else. When our attention isn't on thoughts, this appreciation arises naturally. Anything can just overtake us when we experience it fully.
The ability to experience the awe of something simple arises in the moments when we have silence or space between our thoughts. It is like seeing something for the first time. This feeling is similar to the sense of wonder and innocent curiosity that young children have." ~ Noah Elkrief


Bidwell's Gift
Northwest Side of Kendall Hall in the Lawn Under the Weeping Cherry Tree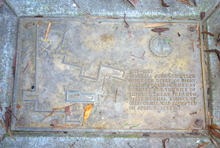 General John Bidwell's generous offer of eight acres from his cherry orchard for the site of the Northern Branch State Normal School of California was accepted on April 8, 1887. This metal plaque, along with 5 others, mark the corners of this gift.
The fertile valley tract was rich with alluvial sediment from Chico Creek and other nearby rivers and streams descending from the Sierra-Cascade mountains. On that fertile ground has grown Chico State's campus, now 119 acres and designated as an arboretum in 1982.
Ring Roll
Creekside Education Gardens Adjacent to the Continuing Education Building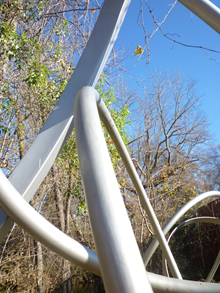 Integrated into the landscape adjacent to Creekside Courtyard, "Ring Roll" is a sculpture composed of interlocking steel rings of varying diameters. According to the award-winning artist team of Mark Grieve and Ilana Spector, "We worked to create a dynamic composition of intersecting curvilinear movement that would harmonize the environment and create a conceptual intersection relating to the architecture of the school and the natural rhythms of the garden site."
"Ring Roll" covers a 30-foot long, 8-foot wide and 10-foot high area within the Creekside Educational Garden, which is near Colusa Hall. Viewable from the Creekside Courtyard and several campus pathways, the rings of the sculpture appear to move, even spin, as the viewer's perspective changes. The sculpture's abstract forms can be interpreted in numerous ways. Enhancing the garden site and the outdoor public space, the sculpture adds a dramatic and playful element to the landscape. Learn more...