Thursday, October 20, 2016 -

11:30am

-

12:30pm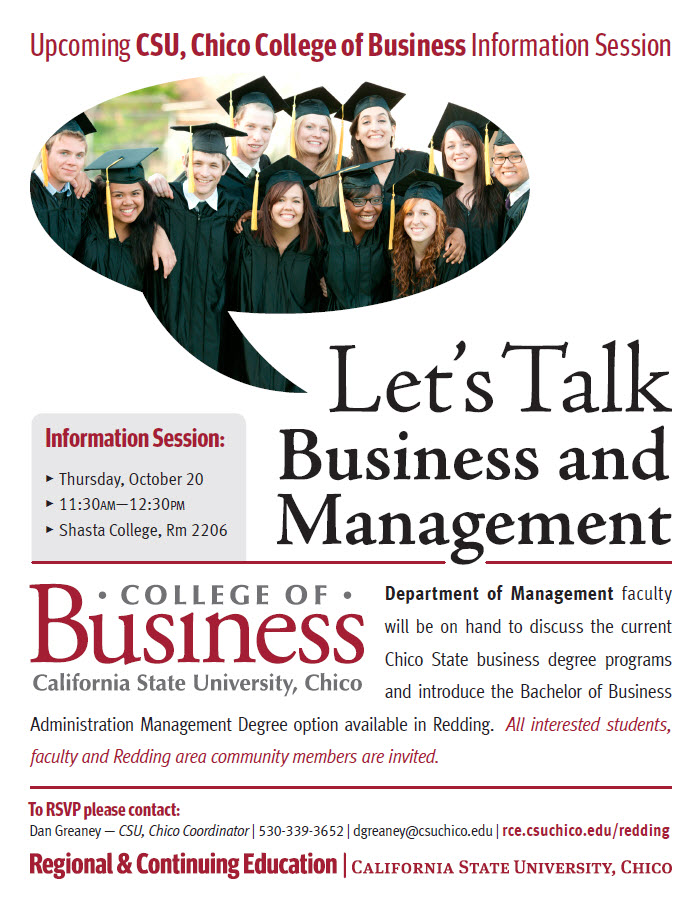 Upcoming CSU, Chico College of Business Information Session at Shasta College

California State University, Chico College of Business, in partnership with Shasta College, will host an information session at Shasta College, October 20, 2016.
Those interested in earning a degree in business in Redding are encouraged to attend the information session.

- Thursday, October 20, 2016
11:30 AM – 12:30 PM, Shasta College, 11555 Old Oregon Trail, Redding, Room 2206

Chico State representatives will be on hand to discuss the current Chico State business degree offerings and the Bachelor of Business Administration Management Degree option available in Redding.

The AACSB accredited business administration degree is designed as a degree completion program in which students take lower-division coursework at Shasta College and then complete their Chico State upper-division classes offered at the University Center in Redding.
All interested students, faculty and Redding area professionals are invited to attend the session. For more information and to RSVP please contact Dan Greaney, CSU, Chico Redding Coordinator, 530-339-3652, dgreaney@csuchico.edu [1] and visit http://rce.csuchico.edu/redding [2].
###