Osher Lifelong Learning Institute (OLLI) at CSU, Chico
Spring Class Registration Is Now Open!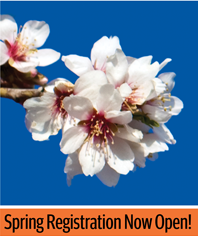 We have a terrific lineup of classes for spring! In addition to popular OLLI classics such as American Wars, Armchair Traveler, Great Decisions, and Cracker Barrel, we're excited about some new classes and peer leaders.
Current members can log in and register for classes online.
If you are a new member or need to renew your membership, you can also join, pay, and register for classes through our membership site. You can also download all of the schedule and membership information here:
Classes begin February 1.

Spring Bus Trip
&

Art Lecture

Join us on our Spring 2016 Museum Trip to the Legion of Honor in San Francisco. A pre-trip lecture will be offered by artist Dolores Mitchell. "Pierre Bonnard: Painting Arcadia" is a major retrospective of the French artist who Henri Matisse considered to be one of the finest painters of the 20th century. The exhibit opened in Paris last summer and then travelled to Madrid. Bonnard, a colorist in the tradition of Gauguin, celebrated the Arcadian beauties he found in his garden and home.

Dolores Mitchell will give pre-trip talk at the Chico New Thought Center on the Bonnard exhibit, as well as on the Legion's celebrated sculptures by Rodin, such as "The Thinker" and "The Three Shades." Both were initially intended for Rodin's monumental "Gates of Hell" based on Dante's epic poem "The Divine Comedy."

Reserve your seat now! [ Download Registration Form ] Registration & payment are due by February 29.

Price: OLLI Members ~ $65 Friends of OLLI ~ $90
Includes lecture, bus fare, museum entry & driver gratuity.
"

Resilient" Documentary On Air

We're excited to announce that a documentary made of of our collaboration with the Joe Goode Performance Group is now online! It show the process of transforming the words and emotions of five OLLI members into a 60-minute performance attended by more than 350 OLLI members, friends, and family members. The video says it all so please enjoy.
Join
OLLI

or Renew Your Membership Today!

The following membership options are now available:
Spring

&

Summer Bundle: $135
Spring Term Only: $90
Summer Term Only: $60
(Not available for purchase until March)
Membership includes:
Unlimited classes, workshops, and interest groups each term

Special general meetings with guest speakers on timely topics

Updates during class sessions, including information about people, class activities, and meetings
You can renew your membership or join OLLI online or by calling 530-898-6679. You can also download and mail in a membership form.
Meet Your Match!

Volunteers are the backbone of OLLI at CSU, Chico. They provide instruction, communications, technical support, outreach, and help us make important social connections. Without volunteer support, OLLI Chico could not provide the array of lifelong learning experiences members enjoy year-round. The Volunteer Connections Program is designed to keep OLLI programming sustainable by expanding volunteer participation. Learning more about you—your skills and interests—will help us connect you to areas of need within the organization. Email us if you'd like to Connect Today.