Osher Lifelong Learning Institute (OLLI) at CSU, Chico

Spring Classes Rolling Along!
OLLI members are enjoying their spring classes, including some of our newest schedule additions. There are many classes that haven't started yet and still have seats available, as well as ongoing classes that are easy enough to join mid-term. You can browse our online schedule and log in and add to your class schedule. You can also download all of the schedule and membership information here:
• Spring Packet: Schedule, Calendar, Membership & Class Registration Forms [pdf]
• Spring Packet with Class Descriptions [ pdf ]
And stay tuned…the summer schedule will be announced before you know it!
Join
OLLI

or Renew Your Membership for Spring
Membership is required to participate in OLLI classes, activities, and events. If you're new to OLLI, you can get started by signing up and paying fees either online or with our mailable form.
Membership options:
Chico Chapter Spring & Summer '18 Membership Bundle: $135
• Spring Term Only: $85 • Summer Term Only: $60
Greater Butte County Chapter Spring '18 Only Membership: $45
Returning members can renew your membership online or call 530-898-6679. You can also download and mail in a membership form. Don't remember or don't have your ID number handy? No worries! Just click the "ID Lookup" button when you log in to register for classes.

Not sure whether you've paid spring fees? Call the OLLI office at 530-898-6679 to confirm. You need to pay for the spring term before you can register for classes.
"April Fools
&

Follies" ~

OLLI

Play Festival
April 12-15 | Blue Room Theater
Six super plays have been selected for this year's Play Festival and we've casted some impressive actors! Eight weeks of rehearsals will lead up to four performances scheduled for April 12-15 at the Blue Room Theater. Mark your calendar for a night of comedic performances.
Campus Partnership Enhances Learning Through Improved Hearing
&

Listening Techniques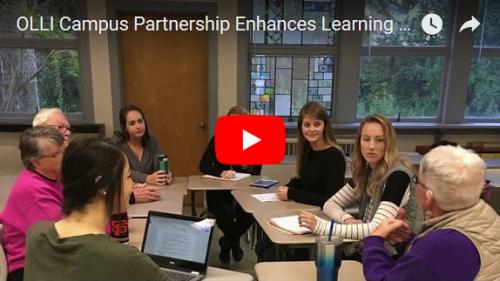 A recent study by OLLI at UC Berkeley showed that the #1 reason OLLI members leave OLLI is because of hearing loss and the frustration and/or embarrassment it causes. In an effort to counter this trend, OLLI is partnering with Dr. Suzanne Miller, director of the Center for Communications Sciences & Disorders (CMSD), to develop teaching/learning opportunities for OLLI peer leaders and CSU, Chico students. Personal consultations, research projects, and classroom visits to assess OLLI's sound systems in our primary classrooms are all underway this spring. These activities follow two workshops last fall, where Dr. Miller and her students addressed hearing loss and identified ways we can improve the overall classroom experience by becoming aware of the issues and techniques used to address hearing loss. These activities also give CSU, Chico students the opportunity to work with older adults in a classroom setting, which is as much a learning opportunity to help them succeed as it is for OLLI. Stay tuned for more information!
A Brighter
OLLI

Is an Engaged

OLLI

!
OLLI

serves a vibrant community of adults over 50 who are generally well-educated, active, engaged in life, and have disposable income. The generous gifts of our business sponsors support the cognitive and social benefits of

OLLI

, help us deliver excellent programming, and enable us to offer fee assistance to members who couldn't otherwise afford to participate. Thank you to our Business Sponsors!
Meet Your Match!

Volunteers are the backbone of OLLI at CSU, Chico. They provide instruction, communications, technical support, outreach, and help us make important social connections. Without volunteer support, OLLI Chico could not provide the array of lifelong learning experiences members enjoy year-round. The Volunteer Connections Program is designed to keep OLLI programming sustainable by expanding volunteer participation. Learning more about you—your skills and interests—will help us connect you to areas of need within the organization. Email us if you'd like to Connect Today.