Osher Lifelong Learning Institute (OLLI)
Give the Gift of a Spring 2014
OLLI

Membership for the Holidays!

Need a great present for that special person on your list? Consider a spring membership in OLLI at CSU, Chico! "It's like a gym membership for the mind," according to Paul Nussbaum, Ph.D., clinical neuropsychologist & international consultant on aging and health promotion. And we happen to think it's a lot more fun!

Included with a spring 2014 membership in OLLI are:
The recipient's choice from more than 85 classes, workshops, lectures, and special interest groups offered in Chico, Paradise, Oroville, and Willows. And there's no limit on how many they can take!
A Chico State library card
An invitation to special

OLLI

meetings with guest speakers on timely topics
Monthly newsletters during class sessions, including information about people, class activities, and meetings
With more than 860 members and more than 85 classes led by volunteer peer leaders, you can be sure that you're giving someone an enriching experience in lifelong learning. OLLI is open to community members at least 50 years of age or retired from their careers. The spring term runs early February through May.
Please download and complete a gift form or call the OLLI office at 530-898-6679 by Friday, December 13 to request a gift membership. A special gift card will be created and mailed directly to the recipient — or to you if you wish to gift wrap it — along with a Spring Class Schedule and a newsletter.
Winter Calendar at a Glance
December 13: Last Day of Fall Classes
December 20: Spring Schedule Available for Viewing
January 15: Spring 2014 Class Preview, Masonic Family Center
January 22: Spring 2014 Registration Opens
February 3: Spring 2014 Classes Begin
What's New with Medicare in 2014?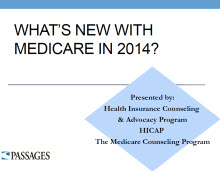 On Monday, November 18, Tatiana Fassieux presented an OLLI workshop about the changes planned for Medicare in 2014, and she has made her PowerPoint presentation available to OLLI members. The presentation covered changes to prescription drug plans (Part D) and Medicare Advantage plans (Part C). She also shared an update on Congressional actions impacting Medicare, a result of the Affordable Care Act and the nation's struggle to reduce health care costs. You can download a pdf file of the slides here.
Ms. Fassieux has worked for PASSAGES, a program of CSU, Chico Research Foundation, since March, 1995 and has held the position of program manager of the Health Insurance Counseling and Advocacy Program (HICAP) since 1999.
Join the Osher Lifelong Learning Institute at Chico State today!
The class schedule has a wide variety of more than 85 classes and special interest groups led by volunteer peer leaders
Courses include books

&

literature, movies

&

opera, science, current events, French, and more!
Learn more information about how to become an

OLLI

member today