Thursday, November 3, 2016 -

4:00pm

-

5:30pm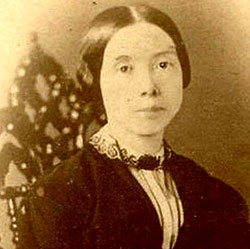 Emily Dickinson is frequently imagined as a mysterious figure who lived inside a poetic world of her own making and showed little interest in the world outside her mind. While it is true she led a reclusive life in Amherst, Massachusetts, Dickinson nevertheless was actively involved in many of the most current intellectual, political, and cultural trends of her time through her reading, letter-writing, and interactions with socially prominent family members and friends. She was a gifted pianist, with a strong interest in the popular music of her time, and a skilled gardener of some renown. All of these engagements make their way into her remarkable poems, most of which were discovered only after her death. This webinar places Dickinson's poems within historical contexts important for her work. We will concentrate on her writings related to the Civil War, to the popular entertainments of her time; and to her conflicted engagements with her Calvinist heritage and the current religious climate in Amherst.
Webinar Leader: Eliza Richards
Associate Professor of English and Comparative Literature, UNC-Chapel Hill; National Humanities Center Fellow
Save the Date: Thursday, November 3, 2016
4–5:30PM Pacific
Register Online [1] | Use Promo Code: CSUC

[2]
Read more information about the National Humanities Center Online Professional Development Program [2] for California Teachers and how to earn university credit for your participation!