Tuesday, October 4, 2016 -

4:00pm

-

5:30pm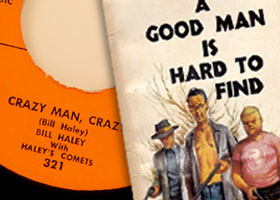 Memphis, Tennessee, 1952: Sam Phillips creates the legendary Sun Studio and records the first ever rock and roll single, "Rocket 88," by Ike Turner's Kings of Rhythm. Fast-forward one year. "Crazy Man, Crazy," recorded in New York by Bill Haley and his Comets, becomes the first rock and roll song to make the Billboard American musical charts. During that year as well, in 1953, Flannery O'Connor publishes what has become a Southern classic: her short story, "A Good Man is Hard to Find." The characters in O'Connor's story are not headed to Memphis or New York. No rock and roll appears in this or any other of O'Connor's stories. In this webinar, we are nonetheless going to examine "Rocket 88," "Crazy Man, Crazy" and "A Good Man is Hard to Find" as products of the same cultural genealogy. It turns out that O'Connor took her title from a 1927 hit by the blues songstress Bessie Smith, a song also called "A Good Man is Hard to Find," and in this webinar we will study the implications of that overlap for understanding American fiction at the birth of rock.
This webinar is designed as an introduction to the NHC conference called "Novel Sounds: American Fiction in the Age of Rock and Roll." The conference provides a forum for examining rock and roll as a literary form of expression crucially shaping our national heritage, and the webinar focuses on O'Connor's influential story to give participants an in-depth view of this relation. Participants will examine the surprising reciprocity between the apparently irreverent form of rock and roll and serious literature, a relationship that has been developing since the emergence of the ballad form itself. We will also feature and model best-practice pedagogical strategies and tools that provide students with a inquiry-based approach to this compelling connection between music and text.
Webinar Leader: Florence Dore
Associate Professor of English, University of North Carolina Chapel Hill
Save the Date: Tuesday, October 4, 2016
4–5:30PM Pacific
Register Online [1] | Use Promo Code: CSUC

[2]
Read more information about the National Humanities Center Online Professional Development Program [2] for California Teachers and how to earn university credit for your participation!