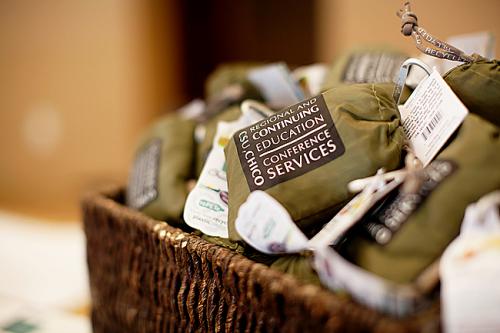 Toronto, Canada and Chico, CA The CSU, Chico Regional & Continuing Education team took home two awards at the 96th annual University Professional & Continuing Education Association (UPECA) Awards held in Toronto. The awards recognize the best of marketing and promotional pieces in the field of professional, continuing, and online education and were given in a number of categories, ranging from entire campaigns to individual media. Continuing Education took gold in the collateral material category, and a bronze award in print pieces. Both awards won for colleges with fewer than 25,000 enrollees.
Entries in the collateral material category focused on tangible, takeaway pieces, like a mug or mouse pad. Melissa McGowan, Marketing Director for Continuing Education said, "Our goal was to design a piece to promote our conference services that would be noteworthy, sustainable, and unique to Chico State." They worked with ChicoBag, a nationally-known company based in Chico that designs reusable tote bags from recycled materials. The resulting gold award-winning piece was a fun "Sling rePETe" bag, with an image conveying why Chico State a great place to hold a conference or event. "The Bag itself, made of 99% recycled content, supports Chico State's commitment to being a green campus and supporting local business," said McGowan. The UPCEA judges said that the bag was a "Cool Product". Other award winners included a T-shirt from The University of Pennsylvania and a Banner Pen from Kansas State.
The Continuing Education marketing team also won a bronze award in the print pieces category, which focuses on works like announcements or greeting cards. The award-winning piece was an invitation to the 2010 Continuing Education Open House, celebrating the Chico Distance & Online Education program's 35th anniversary. The celebration was a resounding success, with over 150 program founders, faculty, staff, alumni, and supporters in attendance. The artwork on the invitation was also featured prominently on additional signage and collateral throughout the event, including large bouquets of red balloons and banners. Other winners in the category included works from Rice University, Colorado State University, and University of North Carolina.
###
About the University Professional & Continuing Education Association
The University Professional & Continuing Education Association, located in Washington DC, meets the professional development needs of its members through programs, publications, conferences, institutes, seminars, and public advocacy, and seeks to advance university professional and continuing education. The Association's members include public and private accredited, degree-granting colleges and universities, international universities, and nonprofit organizations with a significant commitment to professional and continuing higher education.

About the CSU, Chico Center for Regional & Continuing Education
As the anchor institution in Northern California, CSU, Chico serves a twelve-county service area, the largest in the 23-campus California State University system. The mission of the Center for Regional & Continuing Education (RCE) at CSU, Chico is to strengthen and expand the resources of the University to respond to lifelong learning needs through distance and online education, teacher professional development, accredited certificate and degree programs, and a wide variety of personal enrichment and professional development courses and conferences.