FOR IMMEDIATE RELEASE June 16, 2010
CONTACT:
Joe Wills
530-898-4143
Melissa McGowan
Regional & Continuing Education
530-898-6105

CSU

, Chico Awarded $1 Million Endowment For Osher Reentry Scholarship Program

CHICO, CA The Bernard Osher Foundation has awarded a $1 million endowment to CSU, Chico Regional & Continuing Education to provide scholarships for reentry students whose studies were interrupted for at least five years by circumstances beyond their control, and who now want to resume their studies at CSU, Chico. These students enter a wide range of degree programs in fields such as engineering, nursing, social work, and communications.

This is the fourth consecutive year that the Osher Foundation has supported this scholarship program at CSU, Chico. In each of the three previous years, Regional & Continuing Education applied for and was awarded $50,000 in Osher Reentry Scholarship Grants. To date, $150,000 in Osher scholarship have been distributed directly to 38 CSU, Chico students.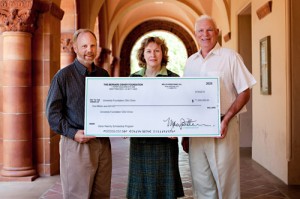 In March of this year, Continuing Education was invited by the Osher Foundation to apply for the $1 million endowment. The award is accompanied by a $50,000 bridge grant that will provide undergraduate reentry students scholarships for the 2010-11 academic year. The endowment is in addition to the $1 million endowment awarded to CSU, Chico to fund the Osher Lifelong Learning Institute. "The Bernard Osher Foundation endowment will fund reentry students for decades to come," said Debra Barger, Dean of CSU, Chico Regional & Continuing Education. "Continuing Education successfully serves many different students in varied ways. The generous support of the Osher Foundation continues to be a bright beacon of hope for undergraduate reentry students seeking to fulfill their educational dreams. We are thrilled that CSU, Chico has been honored with this endowment." [1]
The Bernard Osher Foundation [1], headquartered in San Francisco, was founded in 1977 by Bernard Osher, a respected businessman and community leader. Osher, a patron of education and the arts, is well known as "the quiet philanthropist." A native of Maine, he pursued a successful career in business, including work at Oppenheimer & Company in New York; serving as founding director of World Savings, the second largest savings institution in the United States, and purchase of the fine art auction house of Butterfield & Butterfield in 1970, which he grew and sold to eBay in 1999. Having served on a number of philanthropic and non-profit boards, Osher is an active community leader in the San Francisco Bay Area, the recipient of several honorary degrees, a serious student of opera, and an ardent fly fisherman. The Foundation seeks to improve quality of life through the support of post-secondary scholarships, lifelong learning institutes and integrative medicine programs. "Older scholars often have family and financial obligations greater than those of traditionally-aged students, and, at the same time, they have less access to financial aid," said Mary Bitterman, President of The Bernard Osher Foundation. "(We) began the expansion of support for "reentry" students in 2005 after being inspired by programs at Mills and Dominican Colleges in the San Francisco Bay Area and noting the tremendous potential represented by older students seeking their first baccalaureate degree." There are currently 73 universities and colleges in 30 states and the District of Columbia that receive scholarships from the Osher Reentry Scholarship Program. Four other CSU campuses have also received endowments. For additional information about Osher Reentry Scholarships at CSU, Chico, visit rce.csuchico.edu/osherscholarships/ [2]
###