Summer Session - Fees & Financial Aid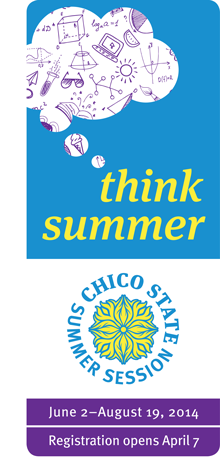 Fees
&

Financial Aid
Summer Session 2014 Fee Schedule
| | | | |
| --- | --- | --- | --- |
| # Units | Undergraduate Students | Graduate / Post Bacc Students | Credential Students |
| | Course Fee* | Course Fee* | Course Fee* |
| 1 unit | $286 | $351 | $330 |
| 2 units | $572 | $702 | $660 |
| 3 units | $858 | $1,053 | $990 |
| 4 units | $1,144 | $1,404 | $1,320 |
| 5 units | $1,430 | $1,755 | $1,650 |
| 6 units | $1,716 | $2,106 | $1,980 |
| 7 units | $2,002 | $2,457 | $2,310 |
| 8 units | $2,288 | $2,808 | $2,640 |
| 9 units | $2,574 | $3,159 | $2,970 |
| 10 units | $2,860 | $3,510 | $3,300 |
| 11 units | $3,146 | $3,861 | $3,630 |
| 12 units | $3,432 | $4,212 | $3,960 |
* Additional one time campus fees for the summer term are $1.00 Associate Students fee, $2.00 ID fee, $5.00 student union fee. Please Note: CSU, Chico reserves the right, even after initial fee payments are made, to increase or modify any listed fees, without notice, until the date when instruction for a particular class has begun. All CSU, Chico listed fees should be regarded as estimates that are subject to change upon approval by the Board of Trustees.
Enrollment Confirmation
&

Fee Payment


There are three ways to pay fees:
Make a payment through the Continuing Education Office. We accept

VISA

, MasterCard, check or cash. Credit card payments processed by Continuing Education are not subject to a service fee.
Make a payment at the Student Financial Services office,

SSC

230.
Post a payment to your account through the Student Center in the Chico State Portal. Payments may be made by credit card (Discover, American Express or MasterCard) or by e-check. Credit card payments are subject to a 2.9% service fee.
IMPORTANT! Registration is not complete until fees are paid and/or you have been awarded a financial aid fee deferral. If you have not paid fees or do not have a fee deferral in place by 3:00pm on the Wednesday following your class registration, you will be dropped from your class(es). Students who are dropped for non-payment of fees must re-enroll if space is still available in the class.
Financial Aid
To Be Eligible for Summer Financial Aid, You Must:
Be a continuing matriculated

CSU

, Chico student regularly admitted into a degree-granting or credential program.
Have a Free Application for Federal Student Aid (

FAFSA

) on file with the Financial Aid and Scholarship Office, with all verifications, corrections and updates received from the

FAFSA

processor. You may complete a

FAFSA

online at www.fafsa.ed.gov.

CSU

, Chico's federal school code is 001146.
Complete a Summer Financial Aid Application, available from the Financial Aid

&

Scholarship Office website.
How to Apply for Financial Aid:
Register for Summer Session classes
Submit your summer aid application to the Financial Aid and Scholarship Office,

SSC

250, as soon as possible, and no later than noon on the Wednesday after your register for classes, so that a fee deferral is placed on your account and you are not dropped for non-payment of fees.
If you receive enough aid to cover your Summer Session fees, no fee payment will be required.
If you receive no financial aid, or an amount less than the total fees due, you must pay the fee balance immediately to avoid being dropped from your class(es).
April 30 is the deadline to apply for summer financial aid. Applications received after the deadline may still be considered, but you may have to pay fees out of pocket so that you are not dropped from your classes for non-payment and then be reimbursed later if aid is awarded.
Additional eligibility and application requirements are detailed on the Financial Aid & Scholarship Office website. Please review the site carefully.
Payment rates depend on the USDVA program to which the student is entitled, the number of units taken, and the length of the course. For approval, contact the Office of Veterans' Affairs at VA@csuchico.edu or (530) 898-5911. For more information visit www.csuchico.edu/va
Please check back regularly, as information on these pages is subject to updates and change.