Tourism Promotion in the Nordic Countries: Sweden & Finland Summer 2018
Tourism Promotion in the Nordic Countries: Sweden
&

Finland Summer Program, July 31–August 11, 2018

Faculty: Dr. Matthew J. Stone [ Contact ]


Academic Credit: Earn 3 units of academic credit. [ Courses ]
About the Program
What better way to learn about marketing and promotion in tourism, hospitality, and leisure industry than with a hands-on experience?
You will learn about promotion, marketing, and sales from experts in the fields of destination marketing, theme parks, hotels, museums, and tourist attractions. You will take tours of tourism industry businesses (such as hotels) and attractions (such as museums) to generate ideas for promotional opportunities. You will create a promotional campaign for one of these attractions. Finally, by visiting another country, you will be able to reflect on how to develop a successful hospitality or tourism destination.
Activities include:
• Tour of Grand Hotel, Stockholm's most famous 5-star hotel
• Visit Globen, arena and architectural wonder, to discuss marketing and promotion of events
• Meet with managers from Gröna Lund, Stockholm's theme park and leading outdoor concert venue
• Food tour of Stockholm to learn about the role of food and beverage in creating a destination image
• City tour of Helsinki and visit to the National Museum
• Boat tour to Suomenlinna Fortress, cultural tourism attraction near Helsinki harbor
• Sports/adventure tourism outing to Seikkailupuisto Huippu outdoor adventure course
Costs
• Program Registration Fees: $3,440

◊ Application and $1,000 non-refundable* deposit due Friday, April 6.
◊ $2,440 final payment due May 7.
Program fees include course registration fees; lodging; daily breakfast and other select meals; transportation within cities; airport bus transportation from airport to city center; admission to museums and cultural attractions; guided tours; introduction to the Swedish language, and more. See course syllabus for complete details.
* If the trip cancels due to low enrollment or other circumstances you will receive a full refund.
• Airfare: Approx. $1,200
• Meals & Incidentals: Approx. $500

• Insurance: $60

• Total Estimated Cost of Participation: $5,200
Academic Credit
This program offers three units of academic credit, allowing you to make progress toward your degree. You will be enrolled in the following course when your fee balance is paid.
• RPHM 422: Leisure Services Promotion [ Download Syllabus ]
Program Faculty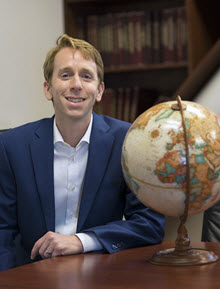 Dr. Matthew J. Stone, PhD, CMP
Assistant Professor, Recreation, Hospitality, & Parks Management at CSU, Chico
(530) 898-4051
mjstone@csuchico.edu