OLLI Classroom Improvements Underway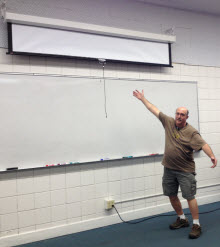 Curriculum Committee member Rose Mary Burke and the rest of the team labored through the summer to create cleaner, more customer-friendly classrooms at Craig Hall. We hope it shows!
Thanks to your support last year, fundraising dollars are helping us improve the overall classroom experience for members in Craig Hall. You may already be enjoying a new, larger screen in the Gordon Room? You will soon see one in the Bradley Room, a new OLLI classroom that will become exclusively ours to use this spring.
A new media cart is also being assembled next week and will replace the dated cart now serving the Gordon Room. We've also been successful getting OLLI access to the dining services (no meal ticket required!) at Craig Hall, as well as talking them into expanding their Bradley Cafe hours, now open from 7am–10pm.
More improvement are on their way, including bigger, brighter signage outside the Gordon and Bradley rooms, as well as an organizational-wide investment in better audio equipment to improve sound.
The Curriculum Committee welcomes your input on how we can improve your experience both inside and outside the classroom. Send suggestions to Ann Nikolai at 898-5858 or anikolai@csuchico.edu.
Published 9.18.14