OLLI Newsletters
OLLI

Newsletters Get a Makeover!

We are transitioning to a simpler, online format designed to give members greater access to OLLI news both as potential contributors and consumers. If you have something to say, a photo to share, or a question to pose to the editor, you can submit information using our new "OLLI Newsletter Submission" form.

Key dates and notices will also be available in our primary classroom at Craig Hall, the Gordon Room. A new team of volunteers has been working over the summer to improve the layout of the room and make notices more accessible. We will also be recruiting classroom assistants from the fall rosters to make announcements before class, assist the peer leader, and pass information back to the OLLI Office. Our goal is to improve communication all around, whether or not you have computer access, and we're grateful to those who've volunteered their time to assist in this effort.
Recent Issues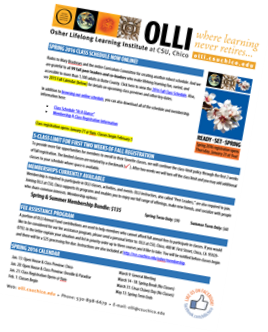 If you aren't on our email list, read or download a pdf version of the newsletter: