Osher Lifelong Learning Institute (OLLI) at CSU, Chico

OLLI

Holiday Luncheon
Wednesday, December 13 | 11:30am–1pm | Canyon Oaks Country Club
Come socialize with friends and get inspired for the holidays! Luncheon tickets are $18 and include your choice of entrée: 1) Bacon Wrapped Pork Loin with Rice and Veggies or 2) Manicotti with Cheese, Chiles, and Mushrooms (vegetarian).

This year you can reserve your seat and your meal online, saving you time and the hassle of finding a parking space near the OLLI office! If you prefer to pay with a check or cash, please give us a call at 530-898-6679. The deadline to register is Dec. 6.
OLLI

Gallery Grand Opening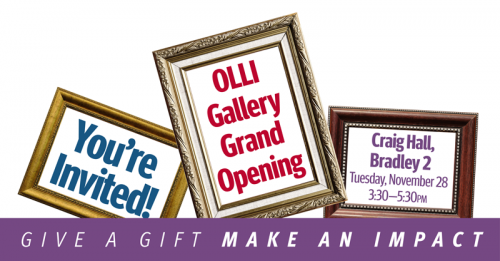 Seats are Still Available to See Jersey Boys!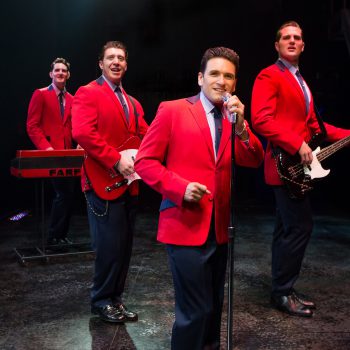 The Broadway Sacramento series is the region's largest live performing arts event, featuring national touring productions of some of the most popular Broadway shows and presented by California Musical Theatre at the Community Center Theater in Sacramento. The ticket price is $125 and each trip will feature sit-back-and-relax transportation, no-host lunch and exploring in Old Town Sacramento, and fantastic entertainment! Download our flyer for show descriptions and ticket information.
Jersey Boys
Show Date: Thursday, February 1
Registration & Payment Deadline: Friday, December 1
[ Reserve Your Seat Online! ]
Fall Class Schedule
Have a little extra time in your schedule? Want to try out a new hobby or learn something new? Take a look at the fall schedule for some fun and fascinating learning opportunities and sign up any time!
You can renew your membership or join OLLI online or by calling 530-898-6679. You can also download and mail in a '17-'18 membership form.
A Brighter
OLLI

Is an Engaged

OLLI

!
OLLI

serves a vibrant community of adults over 50 who are generally well-educated, active, engaged in life, and have disposable income. The generous gifts of our business sponsors support the cognitive and social benefits of

OLLI

, help us deliver excellent programming, and enable us to offer fee assistance to members who couldn't otherwise afford to participate. Thank you to our Business Sponsors!
Meet Your Match!

Volunteers are the backbone of OLLI at CSU, Chico. They provide instruction, communications, technical support, outreach, and help us make important social connections. Without volunteer support, OLLI Chico could not provide the array of lifelong learning experiences members enjoy year-round. The Volunteer Connections Program is designed to keep OLLI programming sustainable by expanding volunteer participation. Learning more about you—your skills and interests—will help us connect you to areas of need within the organization. Email us if you'd like to Connect Today.