Osher Lifelong Learning Institute (OLLI) at CSU, Chico
Spring General Meeting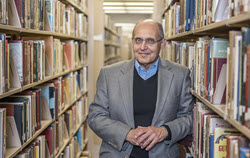 We're excited to welcome keynote speaker and CSU, Chico Professor Emeritus Dr. James Karman. Dr. Karman, who taught literature, religion, and humanities at CSU, Chico from 1977 to 2003, is a world-renowned scholar on Robinson Jeffers, having previously published seven books, other articles, and book reviews on the California poet during his distinguished career.
[ Read more about Dr. Karman ]
Join us on Wednesday, March 8, from 11:30am–1pm at the Chico Masonic Family Center on W. East Avenue. Social hour starts at 11:30 and program begins at noon. Refreshments will be served.
Classes are Underway
Wow! We have more than 130 classes lined up for your spring, including some perennial favorites, as well as some new peer leaders and classes that are sure to be hits. There is still space available in many classes and you can sign up anytime during the semester. In addition to browsing our online schedule, you can also download all of the schedule and membership information here:
• Class Schedule "At A Glance" [ pdf ]
• Spring Packet: Schedule, Calendar, Membership & Class Registration Forms [pdf]
• Downloadable Class Descriptions & Peer Leader Bios [ pdf ]
Join or Renew Your Membership for Spring
Membership is required to participate in OLLI classes, activities, and events. If you're new to OLLI, you can get started by signing up and paying fees either online or with our mailable form.
• Spring Packet: Schedule, Calendar, Membership & Class Registration Forms [pdf]
Membership options:
Spring & Summer Membership Bundle: $135
Greater Butte County Chapter Membership: $75
Allows you to take classes in all locations outside of Chico

Returning members can renew your membership online or call 530-898-6679. You can also download and mail in a membership form.
Creating a Brighter
OLLI

…Begins with You!

What will OLLI look like in 3 years, in 5 years, or in 15 years? Recently our members told us that they are (very!) happy with the OLLI of today…that their membership has value, that OLLI is a wise investment. Our vision of OLLI is one of an organization that is stronger, smarter, more connected, and enduring, all coming together to Create a Brighter OLLI.

We've defined new ways for our members and supporters to help us achieve this goal, better ways to leverage their investment in the organization and help OLLI realize its vision. And, of course, we're continuing with existing fundraising activities, starting with the launch of our 2016-17 Annual Fund Campaign. We invite you to take a look and learn from some of our current supporters about how you can help to strengthen our community, inspire other supporters, and achieve the greatest return on your investment in OLLI.
Meet Your Match!

Volunteers are the backbone of OLLI at CSU, Chico. They provide instruction, communications, technical support, outreach, and help us make important social connections. Without volunteer support, OLLI Chico could not provide the array of lifelong learning experiences members enjoy year-round. The Volunteer Connections Program is designed to keep OLLI programming sustainable by expanding volunteer participation. Learning more about you—your skills and interests—will help us connect you to areas of need within the organization. Email us if you'd like to Connect Today.

A Brighter

OLLI

Is an Engaged

OLLI

!

Thank you to our Business Sponsors!
Save