Osher Lifelong Learning Institute (OLLI) at CSU, Chico

Creating a Brighter
OLLI

…Begins with You!

What will OLLI look like in 3 years, in 5 years, or in 15 years? Recently our members told us that they are (very!) happy with the OLLI of today…that their membership has value, that OLLI is a wise investment. Our vision of OLLI is one of an organization that is stronger, smarter, more connected, and enduring, all coming together to Create a Brighter OLLI.

We've defined new ways for our members and supporters to help us achieve this goal, better ways to leverage their investment in the organization and help OLLI realize its vision. And, of course, we're continuing with existing fundraising activities, starting with the launch of our 2016-17 Annual Fund Campaign. We invite you to take a look and learn from some of our current supporters about how you can help to strengthen our community, inspire other supporters, and achieve the greatest return on your investment in OLLI.
Make the Holidays Jolly with a Gift of
OLLI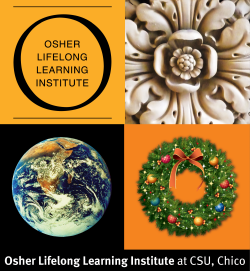 Need a great present for that special person on your list? Consider a gift certificate for a membership in OLLI at CSU, Chico! "It's like a gym membership for the mind," according to Paul Nussbaum, Ph.D., clinical neuropsychologist & international consultant on aging and health promotion. And we happen to think it's a lot more fun! To purchase a gift certificate in any amount, please download an order form or call the OLLI office today.
With more than 1,100 members and more than 130 classes on the upcoming spring schedule alone, you can be sure that you're giving someone an enriching experience in lifelong learning. To purchase a gift certificate in any amount, please download and mail an order form or call the OLLI office today at 530-898-6679.
Registration Deadline Extended for
Broadway Sacramento Series!

The Broadway Sacramento series is the region's largest live performing arts event, featuring national touring productions of some of the most popular Broadway shows and presented by California Musical Theatre at the Community Center Theater in Sacramento. Each trip will feature bus transportation, no-host lunch and exploring in Old Town Sacramento, and theater ticket. Trip time is approx. 9am–5pm.
• Kinky Boots ~ Sunday, Feb. 5

• A Gentleman's Guide to Love & Murder ~ Sunday, March 12
The trip & ticket price for each show is $125. Registration and payment deadline for ALL SHOWS is December 16. Call the OLLI Office at 530-898-6679 to guarantee your seat or download a mailable registration form.
For descriptions of each show and a registration form download our Broadway Series flyer today!
Fall Classes are Underway
We have 108 classes scheduled to keep you engaged and learning this fall. Take a look at the schedule for all of the details. *Note: Check the class schedule for most current class offerings, dates & times, as some changes have been made since the schedule was first released.
Classes are now in session but registration continues throughout the semester. You can join OLLI and add or drop classes any time.

You can renew your membership or join OLLI online or by calling 530-898-6679. You can also download and mail in a '16-'17 membership form.
Meet Your Match!

Volunteers are the backbone of OLLI at CSU, Chico. They provide instruction, communications, technical support, outreach, and help us make important social connections. Without volunteer support, OLLI Chico could not provide the array of lifelong learning experiences members enjoy year-round. The Volunteer Connections Program is designed to keep OLLI programming sustainable by expanding volunteer participation. Learning more about you—your skills and interests—will help us connect you to areas of need within the organization. Email us if you'd like to Connect Today.

A Brighter

OLLI

Is an Engaged

OLLI

!

Thank you to our Business Sponsors!