Osher Lifelong Learning Institute (OLLI) at CSU, Chico
3rd Annual
OLLI

Summer Play Festival

For the past two years, OLLI players have performed to sold-out crowds. The comedies are written by OLLI members and most of the actors (also OLLI members) are first-time thespians. Festival creator Pam Loyd brings the event back for a third straight year, with its "Midsummer Mischief" theme set to deliver lots of laughs.

Due to the extreme heat conditions we are holding the Play Festival at Chico New Thought Center, 14 Hillary Lane this year. Performances will be held June 22, 23 & 24 at 7:30pm, and June 25 at 3pm. Tickets are $10 and available at the door.
Brain States: Your Brain
&

How It Works For or Against You
Summer Intersession Lecture Series Back by Popular Demand!
Led by Dr. Joni Samples

Your brain is an amazing, three pound adventure in your body. It keeps you breathing, your heart beating, and your blood pressure somewhere around normal. Well, it normally keeps your blood pressure around normal, but what if you get angry or depressed? What if something exciting happens like a new marriage or a move? How does your brain work in those times? This class will explore the ways and whys you brain works the way it does and how you can have an effect over the way it operates. Dr. Joni Samples invites you to come and listen, enjoy, and participate in the way your brain works!

5 Workshops: Tuesdays, August 1, 8, 15, 22 & 29

When & Where: 10:30am–Noon | Chico New Thought Center, 14 Hillary Lane

Fee: $10 per session or $45 for the series of 5

Registration: Download the registration form and mail to the OLLI office or stop by during regular office hours, Monday–Thursday, 9am–1pm. You can also pay at the door for any workshop(s) you attend.
It's Time for a Peek at Fall
It's here! The curriculum committee and our volunteer Peer Leaders have outdone themselves yet again. We have 126 classes scheduled to keep you engaged and learning this fall. Take a look at the schedule for all of the details.
Registration opens Aug. 17 at 9am. Classes begin September 5.

You can renew your membership or join OLLI online or by calling 530-898-6679. You can also download and mail in a '17-'18 membership form.
OLLI

Appreciates Our Peer Leaders!

OLLI peer leaders provide the lifelong learning opportunities we so enjoy. Once a year, they're treated to lunch and showered with gratitude. We appreciate ALL of you who joined us at our Spring Luncheon to help us recognize these amazing volunteers.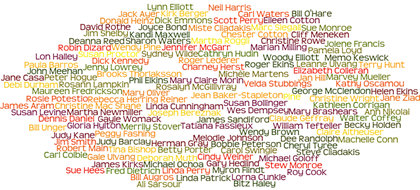 Creating a Brighter
OLLI

…Begins with You!

What will OLLI look like in 3 years, in 5 years, or in 15 years? Recently our members told us that they are (very!) happy with the OLLI of today…that their membership has value, that OLLI is a wise investment. Our vision of OLLI is one of an organization that is stronger, smarter, more connected, and enduring, all coming together to Create a Brighter OLLI.

We've defined new ways for our members and supporters to help us achieve this goal, better ways to leverage their investment in the organization and help OLLI realize its vision. And, of course, we're continuing with existing fundraising activities, starting with the launch of our 2016-17 Annual Fund Campaign. We invite you to take a look and learn from some of our current supporters about how you can help to strengthen our community, inspire other supporters, and achieve the greatest return on your investment in OLLI.
Meet Your Match!

Volunteers are the backbone of OLLI at CSU, Chico. They provide instruction, communications, technical support, outreach, and help us make important social connections. Without volunteer support, OLLI Chico could not provide the array of lifelong learning experiences members enjoy year-round. The Volunteer Connections Program is designed to keep OLLI programming sustainable by expanding volunteer participation. Learning more about you—your skills and interests—will help us connect you to areas of need within the organization. Email us if you'd like to Connect Today.
A Brighter
OLLI

Is an Engaged

OLLI

!
Thank you to our Business Sponsors!
Save
Save