Ace the SAT & GRE with BTPS Testing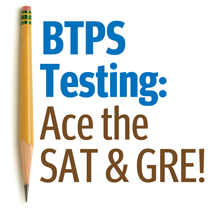 The test preparation programs from BTPS (formally Bobrow Test Preparation Services) can help you build upon your strengths, eliminate your weaknesses and make your feel more comfortable with what you will be facing. All classes, which are evaluated by students and supervisors, are taught by specialists who are fully credentialed with advanced degrees and have many years of teaching experience. Each class is a carefully planned, researched, tested and evaluated learning experience directed and taught by outstanding educators.
SAT

Preparation

Get a competitive advantage on your SAT score and start your path toward college success today. SAT preparation workshops are designed to prepare students for the SAT by providing instruction and practice problems designed to deepen your understanding of the test format, question types, and strategies. This workshop is not meant to be a substitute for formal high school classroom instruction, but will provide you with important learning tools to improve math, reading, and writing skills.

Fifty percent of the class will focus on math (including enhanced math question types), and the other fifty percent of the class will be used to analyze Critical Reading, Sentence Completion and the Writing Sections (essay and multiple choice). Classes are taught by credentialed teachers who specialize in mathematics or English. The book included in the course is written by the faculty of BTPS Testing, CliffsTestPrep SAT® with CD/ROM (2012) including seven full-length practice tests. Free-repeat policy: you can retake any session. Course fee: $350.
Upcoming

SAT

Test Prep Sessions at Chico State:
Registration Open
Session II - Winter 2015
Saturdays, February 21, 28 & March 7
GRE

Preparation Workshop
Section-Level Adaptive Computer-Based Test
Maximize your test-taking potential on the GRE. Classes provide you with over 20-hours of instruction including important in-class practice, take-home online computer practice testing and a free-repeat policy. Leading experts in the field of test preparation help you to review concepts and skills in the three subject areas on the GRE: (1) Quantitative Reasoning (arithmetic, algebra, geometry, data analysis, data interpretation, and word problems); (2) Verbal Reasoning (reading comprehension, text completion, and sentence equivalence); and (3) Analytical Writing Essay Tasks (analyze an issue and analyze an argument). The book included in the course fee is written by the faculty of BTPS Testing, CliffsTestPrep GRE General Test® with CD/ROM including four full-length practice tests for enhanced home study. Free-repeat policy: you can retake any session. Course fee: $450.
Upcoming

GRE

Test Prep Sessions at Chico State:
Session II - March 2015
Saturdays, March 7, 14 & 21 and one Sunday, March 15

Session III - May 2015
Saturdays, May 2 & 9 and Sundays May 3 &10


BTPS

(formally Bobrow Test Preparation Services) originated at California State University, Northridge, by the request of the student body in 1973. Since that time, they have assisted over 500,000 students and potential teachers in preparing for graduate, college entrance and teacher certification exams. By request only, these programs are now offered at over 25 California State Universities and Colleges, numerous California School Districts, County Offices of Education, and California Teachers Association. State Boards of Education, publishing companies, and School Districts throughout the Country have also requested these services.