ELM (Entry Level Math Exam) Workshop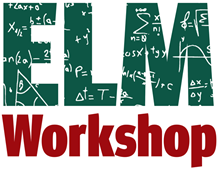 Want a great way to take care of your Early Start Program requirement AND prepare to re-take (and ace!) the Entry Level Mathematics (ELM) Test?
CHECK

OUT

THE

ELM

WORKSHOP

!
This workshop is exclusively available to students attending CSU, Chico in Fall 2017 who have an Entry Level Mathematics (ELM) test score between 42-48, an Old SAT score of 490-540, New SAT score of 520-560, ACT score of 20-22, or EAP score of "Conditionally Ready." It's on-campus during move-in weekend so you don't need to take time out of your summer vacation.

Does it work? If you're like 65% of students in the workshop, you'll score high enough on the ELM test to enroll in a GE (college-level) math class in the fall.
DATES

:
ELM WORKSHOP: $70
Wednesday, Aug. 16, Thursday, Aug. 17 & Saturday, Aug. 19
9am–12pm | Holt Hall 185 [ Map ]
ELM TEST: $20
Saturday, Aug. 19
2pm | Meet in Butte Hall
Courtyard [ Map ]
COURSE

DESCRIPTION

:
The ELM Workshop is for first time freshman (Fall 2017) who will be attending CSU, Chico and who scored between 42-48 on the ELM test. This is a review of Intermediate Algebra. Topics include linear equations' inequalities' exponents' polynomials' functions' rational expressions' rational exponents' radicals' quadratic equations' systems of linear equations' and logarithms. This course satisfies the Early Start Math requirement but does not satisfy the remedial Math requirement.
Following the course, you should retake the ELM exam to assess if you are eligible to enroll in a GE-level math course.
GET

STARTED

:
Step 1: Sign Up for the Workshop
• Registration is now closed
• Or call Continuing Education at 530.898.6105
• Deadline to register is August 9

Step 2: Sign Up for the Aug. 19 ELM Test
• Registration is now closed
• Deadline to register is August 9…but the test fills so register ASAP!
• The test fee is $20 and is paid online when you register for the test

Step 3: Request early move in with University Housing if needed
• If you receive an assigned move-in date that is after the 15th, visit the University Housing website and submit an "Arrival Date Change Request" for August 15th.

Step 4: Complete the workshop, ace the test & watch for your results!
• Prepare in advance with practice guides & problems.
• Arrive awake and prepared for the workshop and test. Here's a map.
• Placement results will be emailed to you by the Math Department on Tuesday, Aug. 22
COMMON

QUESTIONS

:
Why should I take the
ELM

Workshop instead of the online Early Start class?
The workshop is face to face with an instructor so you can ask questions. It's also only 3 intensive half-day sessions right before the exam rather than 2 weeks online. Some students choose to take both the online course and the ELM Workshop for a last minute opportunity to ask questions.
Does signing up for the workshop also sign me up for the test?
No, registration for the test is separate through the Educational Testing Service (ETS) and costs $20. There will be limited walk in space, but you are not guaranteed of a seat to take the test if you are not pre-registered by the August 9th deadline.
What should I do to prepare for the workshop?
Print out and complete the problems in the ELM Problem Book. Bring the book and your questions to the workshop.
How do I get my
ELM

Test Score?
After the Math Department receives your score, you will be notified via Wildcat Mail of your placement level by the afternoon of Tuesday, August 22nd.
If I ace the
ELM

, how do I change my fall math class?
The Math Department will drop you from the algebra class that you were placed in based upon the score from your previous ELM test and assist you in registering in an open General Education math class for your major. Enrollment in a GE math class for fall depends upon availability.
Is there financial aid available?
Not for the ELM Workshop, however, it is only $70 compared to $182 for the online course.