Domestic Violence Update 2012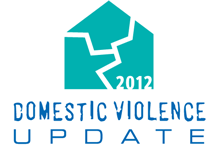 Domestic Violence Update
Legal
&

Social Science Update for California Rule of Court 5.230
Colusa Hall Conference
&

Event Center

This segment met the requirements of Rule of Court 5.215(j)(2), which requires all Family Court Services staff to "complete 16 hours of advanced domestic violence training within the first 12 months of employment and 4 hours of domestic violence update training each year thereafter," and which suggests that "Family Court Services programs should, where possible, enable support staff, including but not limited to clerical staff, to participate in training on domestic violence and in handling domestic violence cases appropriately." It further met the requirements of Rule of Court 5.230, which requires child custody investigators and evaluators to obtain 16 hours of advanced training in domestic violence issues and 4 hours of update training each year, which must include "an update of changes or modifications in local court practices, case law, and state and federal legislation related to domestic violence."
Learning Objectives:
Identify changes in civil and criminal laws affecting domestic violence survivors, perpetrators, and their children
Explore the continuing changes in Family Courts as a result of the Judicial Council's Elkins Task Force
Understand the requirements surrounding and options available for children wishing to participate in child custody cases in Family Court
This presentation introduces participants to key concepts related to trauma-informed service provision with a specific emphasis on domestic violence survivors. Research from the Adverse Childhood Experiences (ACE) Study shows the strong relationship between ACEs and later in life disease, disability and social problems. Attendees will better understand unsafe behaviors, how to work with clients that engage in unsafe behaviors, such as substance abuse, self-injury, isolation, etc. Attendees will also practice a trauma-informed approach to discussing unsafe behaviors and identify safe behaviors.
Learning Objectives:
To increase the general knowledge of trauma-informed concepts, research and resources.
To apply trauma-informed approaches to discussing challenging issues related to service provision (domestic violence, substance abuse, negative coping, self-harm).
To learn specific interventions when working with clients and caregivers, especially ones who have unsafe coping strategies, such as substance abuse, suicidal thoughts, aggression, or isolating.

Presenters:

Emberly C. Cross,

JD

MSW

, Coordinating Attorney
Cooperative Restraining Order Clinic, San Francisco

CA

Emberly Cross has been the Coordinating Attorney at the Cooperative Restraining Order Clinic in San Francisco since 1996, helping survivors of domestic violence, sexual assault, and stalking obtain restraining orders and child custody and support orders. She obtained her law degree and her Master's of Social Work degree from the University of Michigan. Prior to working at CROC, she was in private practice in family law in San Francisco.

Before practicing law, she was on staff at the University of Michigan's Sexual Assault Prevention and Awareness Center in Ann Arbor, where she directed the sexual assault and dating violence crisis line and the sexual assault emergency response team on campus. She has served on the Board of Directors of W.O.M.A.N., Inc. in San Francisco, which provides a 24-hour crisis line and non-shelter based counseling to domestic violence survivors. She has volunteered with domestic violence and sexual assault crisis lines and emergency response teams in San Francisco and in Michigan.

Emberly currently sits on the California Judicial Council's Family and Juvenile Law Advisory Committee and on the Administrative Office of the Court's Violence Against Women Education Project Planning Committee. She has been a member of the California Partnership to End Domestic Violence's Public Policy and Research Committee since 1995 and co-chaired its Children Witnessing Domestic Violence subcommittee. She routinely conducts trainings on restraining orders as well as domestic violence legislative and social science updates in the Bay Area and throughout California.

Gabriella Grant,

MA

Gabriella Grant is the director of the California Center of Excellence for Trauma Informed Care, located in Santa Cruz, California, overseeing the Center's research, program and professional development as well as policy analysis activities. Previously, she managed a successful three-year project funded by the California Department of Public Health to increase access to domestic violence shelters by women with mental health and/or substance abuse issues [2006-2009]. Her professional background includes heading the nation's first community corrections-based victim advocacy program for the Maryland Division of Parole and Probation, [1996-1999] and working on jury reform for the Judicial Council of California. She consults with publicly funded agencies on trauma-informed strategies to help transform and improve services.

Since 2009, Ms. Grant has also been a trainer and consultant for Treatment Innovations, the developer of Seeking Safety: A Treatment for PTSD and Substance Abuse; she has trained dozens of agencies in the use of the model, including over a thousand clinicians in Los Angeles alone. Ms. Grant trains professionals on an array of topics: trauma, substance abuse, PTSD, unsafe behaviors, eating disorders, problem gambling, domestic violence, sexual assault and child abuse. She has worked with criminal justice agencies, the courts, social service agencies and public health departments. She has a bachelors' degree from Amherst College in Amherst, Massachusetts; a Latin teaching certificate from the Pontifical Gregorian University in Rome, Italy; and a Masters of Arts in Public Policy from the Johns Hopkins University in Baltimore, Maryland. She conducts a drop-in Seeking Safety group for women in the community.