Annual Report 2009-2010




RCE successfully secured a $1 million endowment from the Bernard Osher Foundation to support scholarships for reentry students.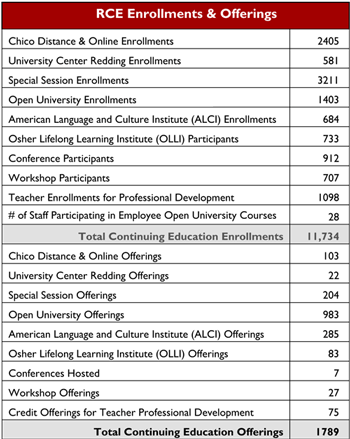 RCE generated more than 11,000 enrollments in nearly 1800 self-support continuing education offerings, a 28% increase in enrollments in spite of decreased staff time due to furloughs.

Total revenue from all sources was $5,744,329.

A successful mid-term conversion of Summer 2009 to self-support and a fully self-support January Intersession provided colleges a much-needed outlet to meet student needs, with greater flexibility and an increase in the number of wholly online courses.

Self-service registration for self-support courses was available to matriculated Chico State students, creating a convenient registration process and a virtual demand payment process to better serve student and accommodate the significant volume of transactions.

Student Learning, Wellness, Career, and Health Center video-streamed presentations are now available to off- and on-campus students to support student success.

North State market research was completed to support the selection of and investment in delivering additional state-support degree programs at the University Center in Redding.

The American Language and Culture Institute continued a positive enrollment trend with a 20% increase to 278 individual participants from 27 countries.

The ALCI Introduction Video was viewed by 77,000 visitors from 160 countries and is the most viewed YouTube video in the CSU system (official or user-produced).

RCE's Information Technology energy use was reduced by an estimated 80% with the migration of physical servers to a virtual environment and new equipment that provides all the required capabilities with a lower energy profile.

The non-credit Localization Certification Programs in San Francisco and Canada served 65 participants from 13 countries and 11 states.

912 people attended 7 conference events on campus.


The mid-June Summer 2009 conversion to self-support and the self-support January Intersession 2010 were strategically managed to serve students, provide teaching opportunities to faculty, and address the campus' need for additional self-support options to help students make progress to degree.
1247enrollments in Summer 2009 were moved from state-support to self-support with no increase in fees or impact on financial aid for regularly matriculated students.
January Intersession 2010 generated 1418 enrollments in 58 classes.
Streamlined access to self-support registration via the Chico State portal was established for matriculated students.
A new schedule-build process improved communication and helped colleges and departments approach the creation of Summer Session and January Intersession schedules in a more strategic, integrated approach.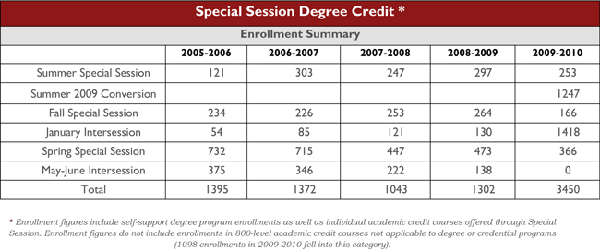 RCE supported the College of Behavioral and Social Sciences' Fall 2009 launch of the Master of Social Work degree program in Redding.
School of Social Work planning and outreach efforts and successful

WASC

six-month review were strengthened by

RCE

's services, coordination, and outreach efforts.

A custom research project to identify demand for degree completion programs in the North State was concluded.
Data are available to support the campus' long-term planning for the University Center in Redding.
Research results identified barriers to enrollment and degree programs most in demand, leading to modifications in program services.

Enhanced resources for students studying online and at the University Center in Redding were part of a strategy to improve retention and graduation.
Campus resources such as workshops presented by the Student Learning Center, the Wellness Center, and the Career and Health Centers are available online and on-demand to regularly matriculated students who study at a distance from campus.
On-campus students can access those same resources anytime from any place.
Collaboration with Student Affairs further increased the scope of the audience for these student success services.
The impact of Student Affairs' efforts was broadened by reaching out to the underserved and using an accessible online approach.
26 presentations were viewed more than 500 times during the academic year.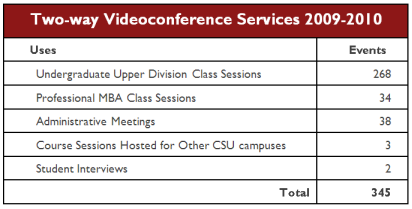 A strategy to increase enrollments at University Center in Redding included expanded advertising and communication channels and individual follow up with applicants and leads.
Outreach efforts focused on Spring 2010 admission, with a media push in August 2009 that included television, billboards, and social media.
University Center enrollments in Spring 2010 exceeded enrollments in Fall 2009 achieved with the special opening of admissions in August 2009.
Online course content for the College of Business' self-support Enterprise Information Systems Certificate was developed in preparation for a spring 2011 program launch.
Three courses recorded and ready for program launch, with final course production planned and underway.

The goal of investing in the RCE Online infrastructure that includes Moodle (a learning management system) and Mediasite (a video capture system to record lectures) was achieved. A faculty self-service course development interface and creating comprehensive online student orientations remain outstanding aspects of this goal.
RCE

developed the capacity to create online learning materials that enhance student learning with quality lecture presentations, technology-supported faculty interaction, and

ATI

-compliant course content.

RCE's capacity and expertise in online learning management tools, particularly Mediasite, increased with the investment of staff, time, and resources to support online course development.
Lecture capture services are readily available, with the ability to record in multiple locations and serve future lecture capture needs.
Expertise gained developing academic course content was applied to other

RCE

programs.
Professional and student staff engaged in learning how to use the technology tools and how to work with faculty and instructional design experts to create effective online course content.

Student progress in the Chico Education Network degree programs were strategically accelerated to minimizing the financial burden and redirect resources to build viable programs.
Open University Enrollment Data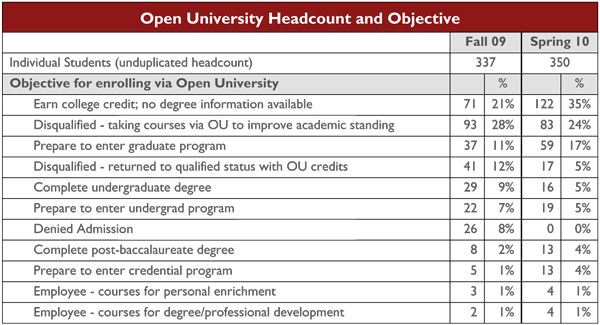 Strengthening and refining RCE's organizational effectiveness is RCE's strategic goal aligned with the Academic Affairs priority of nurturing excellence in faculty and staff. 2009-2010 unit goals in support of this strategic priority resulted in the following achievements:

RCE personnel needs related to furloughs, a leave of absence, and a pending retirement were addressed effectively to ensure business needs and organizational efficiencies were met.
Despite independent funding for

RCE

staff positions,

RCE

participated in the state furlough program and implemented processes and practices to avoid or minimize any negative impact on the various audiences served by

RCE

programs and services.
A leave of absence request by the

RCE

Marketing Director, Joe Picard, was granted to allow him to accompany his wife, Dr. Diana Dwyre, during her 2009-2010 appointment as a Fulbright Distinguished Chair.
A focus on business process improvements resulted in redesigned processes to achieve the efficiencies necessary to grow

RCE

's programs and mitigate the impact of the furlough program.

Two staff positions essential to ongoing RCE operations achieved permanent status.
Well-qualified and experienced staff are retained and strengthen

RCE

's core business capabilities.
Essential functions are fully covered with less potential for disruption due to gaps in appointments.
A smaller number of temporary appointments reduces the

HR

administrative workload to manage appointments and renewals.

Internal staff development opportunities were identified and implemented.
RCE

's Live @ 8:05 continued to provide a consistent and thoughtful opportunity for internal staff development, with a focus on technical topics and skill building to encourage process improvement.
Quarterly all-staff meetings engaged staff in learning about

RCE

's opportunities and challenges.
A mid-year goal review for all staff was formalized and documented, reinforcing the importance of strategic planning and periodic realignment of individual goals to reflect the dynamic environment and

RCE

's core value of responsiveness.
Additional online course offerings provided faculty development opportunities.

National leadership in the continuing and extended education profession was demonstrated by active involvement in the University Professional and Continuing Education Association (UPCEA) and the Association for Continuing Higher Education (ACHE); state leadership was demonstrated by contributions to the CSU Commission on the Extended University.
RCE

personnel are engaged in influencing the profession through leadership, presentations, and participation in initiatives that strive to improve adult continuing higher education at a national level.

CSU

, Chico is recognized and represented at a national level as a result of the leadership roles held by

RCE

personnel.

RCE

staff and operations are informed and strengthened by the networking and skill building that results from active participation in

UPCEA

and

ACHE

.

CSU

systemwide continuing/extended education is stronger because of

RCE

's contribution to policy discussions, budget reviews, and best practices.

RCE supports professional development through leadership in these national and international organizations.
University Professional and Continuing Education Association (

UPCEA

)
Association of Continuing Higher Education (

ACHE

)
Association of Collegiate Conference Event Directors – International (

ACCED

-I)
Western Cooperative for Educational Telecommunications (

WCET

)
National University Telecommunications Network (

NUTN

)
Teachers of English as a Second or Other Language (

TESOL

)
Association of International Educators (

NAFSA

)
American Association of Intensive English Programs (

AAIEP

)
The Institute of International Education (

IIE

)
Osher Lifelong Learning Institute Network

RCE embraces sustainability as a core value, and sustainability is reflected in all aspects of RCE's business operations, with leadership particularly in the use of sustainable marketing strategies to connect with and serve many audiences. Several of RCE's 2009-2010 unit goals were accomplished in alignment with this priority and in support of the strategic goal to create and manage a fully functional conference meeting space that models energy efficiency and integrated design.

The goal of moving the University Center Landscape Project forward was achieved, albeit with a greater than desired scaling back of the project.
The courtyard is poised to be significant upgrade to the campus core and provide a valuable outdoor venue for students, faculty and staff, and visitors.

RCE

's desired designs for shade structures were eliminated, with an impact of additional investments in alternative shade solutions required in the upcoming year.

The goal of incorporating faculty-led projects into the Colusa Remodel and University Center Landscape Projects remains viable, with plans and a commitment to focus on involving Concrete Industry Management students in the design and creation of seating for the courtyard and exterior of Colusa.
Concrete Industry Management students will have an opportunity for hands-on projects.
The value of the University Center Landscape Project is enhanced by student engagement and the tangible, creative results of their efforts.
The project contributed to the

CSU

, Chico master plan objective to support harmony between the natural and built environment with the physical space redesign and enhanced green space.

Center for Continuing Education (CCE) classroom 107 was equipped with a two-way video system to support the extended use of two way video and Web conferencing as a sustainable alternative for course delivery and meetings.
Professional

MBA

two-way video courses typically originating in Glenn Hall have a more energy efficient summer location in

CCE

107, an independently chilled classroom.
Faculty, staff, and administration have access to an additional resource for two-way video conferencing.

By mission and purpose, RCE is closely aligned with the Academic Affairs goal of serving the North State and beyond. RCE's strategic goals of expanding reentry and learning in retirement opportunities and creating new self-support offerings in a variety of delivery modes resulted in a variety of exciting new initiatives and expansion of successful programs to meet lifelong learning needs as evidenced by the accomplishment of these 2009-2010 unit goals:

Membership in the Osher Lifelong Learning Institute (OLLI) grew by nearly 5%, moving OLLI toward a longer-term goal of achieving a membership target necessary to pursue a second $1 million OLLI endowment from the Osher Foundation.
733 individual members joined the program.
Registration processes were expanded to include mail-in registration that improved staff efficiencies and gave members an additional, convenient registration option.

Outreach for the Osher Lifelong Learning Institute (OLLI) included earned media and encompassed a broader target audience.
Articles in the Enterprise-Record and The Orion highlighted the value of lifelong learning and the richness of the

OLLI

program and its impact on participants.

The American Language and Culture Institute (ALCI) programs grew in size and diversity.
ALCI

students impacted

CSU

, Chico and the Chico-area community, providing further opportunities for socio-cultural exposure and purposeful exchange between domestic and international students.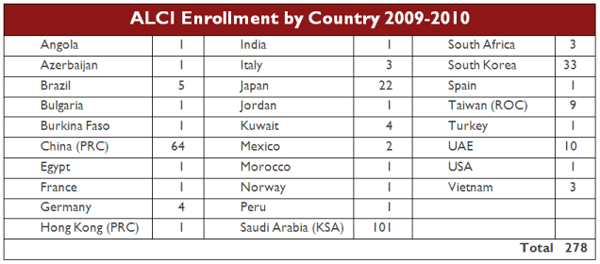 An implementation plan and a contract to redesign the RCE Web site using the Drupal Web Content Management System were achieved.
The work accomplished in 2009-2010 laid the foundation for redesigning the Web applications and databases that enable

RCE

to reach and serve a broad audience with accurate, dynamic, and interactive Web marketing and services.

Two new conferences were secured through academic and professional organizations.
California Indian Fair for Research Partnerships brought together 78 Native American tribal leaders and university and government researchers.
The Northern California Botanical Society moved its annual meeting from Sacramento to Chico, with 280 participants meeting on campus during the January Intersession.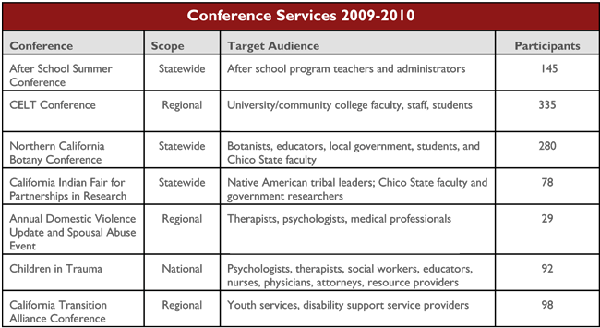 Responsible stewardship of RCE resources is essential to the financial viability of RCE's programs and services, and a significant part of that stewardship is the contribution of both direct and indirect benefits to the University. In 2009-2010 RCE made a significant contribution to the financial health of the University through fundraising and self-support programming. The strategic goals of increasing grant and contract activity and responsible stewardship of RCE resources were supported by the achievement of these unit goals:

RCE applied for and received a $1 million Osher Foundation reentry scholarship endowment.
This second $1 million dollar endowment positions

RCE

and

CSU

, Chico well for future endowments.

RCE secured and administered the 2009-2010 Osher Foundation $50,000 reentry scholarship program.
15 reentry students received $3,125 scholarships; 2 students received $1562.50.


Two grant opportunities related to workforce development were pursued.
While not funded, both proposals will serve as springboards to future funding requests.

McConnell Foundation grant administration focused on fiscal accountability and planning for the future of CSU, Chico's presence in Redding.
Resources managed responsibly, with staffing issues addressed with assessment plan and future management strategies under discussion with the McConnell Foundation.

A task allocation process was implemented to provide a cost allocation methodology for RCE programs and services.
Improved budget planning and more refined activity-based costing.

The CERF Reserve plan was implemented with funding expended for the University Landscape Project and two-way video conferencing equipment as designated in the plan.
CERF

Reserves were invested in campus infrastructure; campus core transformed.

RCE expertise and capabilities were applied to planning and implementing self-support solutions to problems caused by the state budget cuts.
Summer Session and January Intersession processes and procedures were streamlined to serve a greater volume of students with more efficiency.
$85,000 in summer grant funds were awarded to

SUG

-eligible students for Summer Session 2010. $67,000 of those funds were disbursed in the 2009-2010 fiscal year.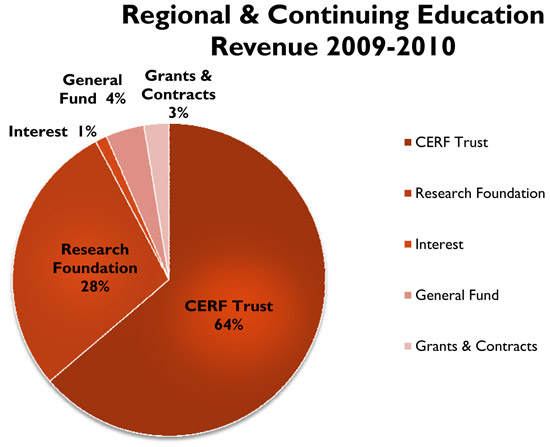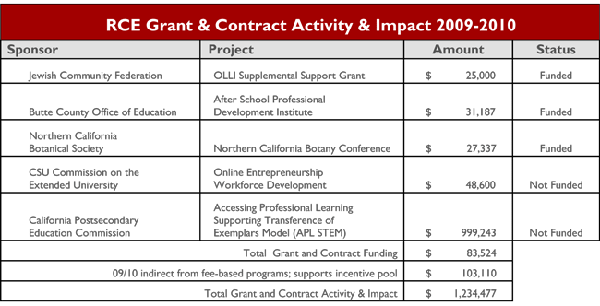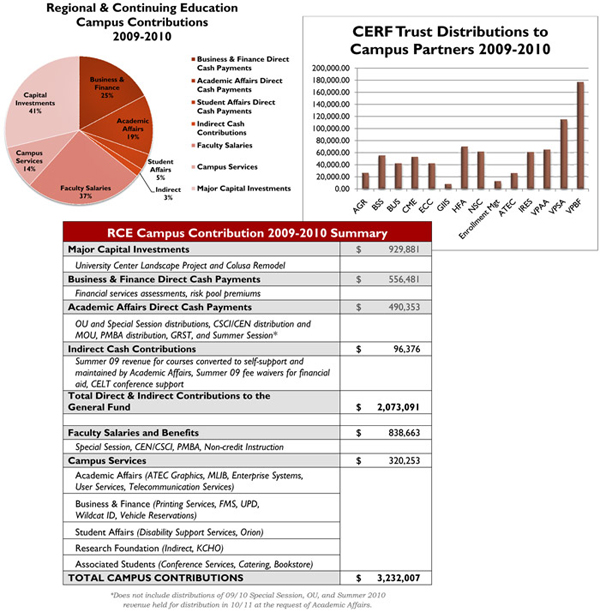 Five-Year
Strategic Goal 1:

Expand and enhance
reentry and learning in
retirement opportunities
to meet diverse
educational needs

Secure and seminister 2009-2010 Osher-funded reentry scholarship program.

Achieved: $50,000 Scholarship Grant secured; 17 reentry students received scholarship award

Apply for and receive a $1 million Osher reentry scholarship endowment

Achieved: $1 million endowment secured

Expand Osher Lifelong Learning Institute outreach to include earned media and encompass broader target audience

Achieved: Multiple articles in Enterprise-Record and The Orion; additional outreach channels developed

Build membership capacity to achieve 2nd $1 million endowment in 2012

Achieved: All time high of 733 members, a 5% increase over prior year
Five-Year

Strategic Goal 2:

Create and manage a fully functional conference meeting space that models energy efficiency and integrated design, solely funded by Continuing Education Revenue Fund (CERF) reserves, i.e., non-general fund dollars.




Move Colusa Remodel & University Center Landscape Projects forward with no significant scaling back of project scope.

Achieved: University Center Landscape Project complete except educational gardens; Colusa remodel moved to 100% Construction Documents for contractor bid.




Incorporate faculty-led projects into the Colusa Remodel & University Center Landscape Projects.

Progress: Concrete Management, Construction Management faculty, and

ECC

Dean are on board; awaiting appropriate timelines associated with building remodel.




Remodel CE 107 for two-way video and ease of Web conferencing.

Achieved: Two-way video equipment installed and in use.




Secure conference business through academic and professional organizations and RCE-sponsored programming.

Achieved: Two new conferences secured and hosted; five repeat conferences delivered.



Five-Year

Strategic Goal 3:

Strengthen and refine RCE's organizational effectiveness, with an emphasis on process improvement, enhanced communication, and proactive staff development.




Develop and implement plans to address RCE personnel needs related to furloughs, leave of absence, and pending retirement.

Achieved: Furlough plan implemented; interim staff hired to cover leave replacement; retirement transition strategy in place.




Pursue permanent status for those positions that are essential to ongoing RCE operations.

Achieved: Two positions achieved permanent status; essential temporary appointments renewed.




Seek internal staff development opportunities to ensure continued growth in organizational effectiveness.

Achieved: Live @ 8:05 professional development program strengthened with relevant content; hosted Koffee

&

Kudos staff recognition event for campus.




Implement self-service registration with on-demand payment via the CSU, Chico portal for Special Session courses.

Achieved: Self-service registration was used for January Intersession and Summer Session 2010, with a modified demand payment process.

Strategically accelerate student progress toward graduation in the Chico Education Network degree programs to minimize financial burden so that resources may be redirected.

Progress: Students enrolled in 20

CSCI

courses offered in 2009, moving toward degree completion by target date of December 2011.

Using cost-effective strategies such as online and two-way video conferencing whenever possible, continue to demonstrate national and state leadership in the continuing and extended education profession.

Achieved: National and regional leadership role in the Association for Continuing Higher Education; leadership presentation at the University Professional Continuing Education Association national conference.



Five-Year

Strategic Goal 4:

Expand self-support credit and non-credit offerings, certificates, and degree programs with a variety of delivery modes from face-to-face, to hybrid, to wholly online.




Strategically manage January Intersession and Summer Special Sessions to address campus needs for additional self-support courses.

Achieved: 247 enrollments in Summer 2009 converted to self-support; 1418 enrollments in January Intersession 2010.




Launch the Enterprise Information Systems online certificate program in collaboration with the College of Business.

Progress: Course lectures recorded and online course materials developed.




Expand capacity and expertise in RCE Online learning management tools, including Mediasite, to create new online content.

Achieved: Mediasite used to capture course lectures; 26 Student Affairs workshops and seminars recorded and available online.




Build January Intersession and Summer Special Session schedules to best meet student demand.

Achieved: 58 classes offered in January Intersession; Summer Session 2010 schedule build process followed a streamlined, integrated process and resulted in 124 classes offered.




Increase and diversify international programs through ALCI.

Progress: Enrollments achieved record levels with 278 individual participants from 27 countries generating 636 course enrollments.




Invest in RCE Online infrastructure to support online self-support programming including video streaming and faculty self-service course development interface and student orientation.

Progress:

RCE

Online virtual server established in Information Resources/Enterprise Systems with Service Level Agreement.

Implement a Web Content Management System (WCMS) to improve accuracy, ensure compliance, and stimulate participation in self-support programs.

Progress: Contract signed with consultant to implement Web conversion to Drupal content management system; implementation plan in place.



Five-Year

Strategic Goal 5:

Strategically support the growth of state-support online and distance education degree programs.




Based on the Eduventures research project, identify areas of need and implement strategy to increase enrollments at the University Center in Redding.

Achieved: Research findings shared with appropriate colleges, Academic Affairs leadership, and McConnell Foundation; new media channels used to promote

CSU

, Chico degree completion programs in Redding.




In partnership with the appropriate college, launch one new state-support degree completion program.

Achieved: Supported launch of

MSW

degree program at the University Center in Redding.



Five-Year

Strategic Goal 6:

Increase grant and contract activity to support revenue diversification




Identify and pursue grant opportunities related to workforce development.

Achieved: Two workforce development-focused grant proposals submitted:

CSU

Commission on the Extended University and California Postsecondary Education Commission.




Generate new grants and contracts in alignment with RCE mission and goals.

Achieved: Grant from the Jewish Community Federation secured to support the Osher Lifelong Learning Institute; two contracts for conference management successfully completed.

Continue to manage successfully the McConnell Foundation grant for the University Center in Redding to ensure fiscal accountability.

Achieved: Budget reports reflect fiscal accountability.



Five-Year

Strategic Goal 7:

Demonstrate responsible stewardship of RCE resources to ensure financial viability of all RCE programs and activities and document RCE's contribution to the University.




Implement a cost allocation plan that is fully embraced internally and effectively implemented by all staff.

Achieved: Task Allocation online reporting process resulted in cost allocation of labor directly to programs supported to inform budget management and financial analysis.




Implement the CERF Reserve Plan to invest in campus infrastructure.

Achieved: Colusa remodel and University Center Landscape Project proceeded under the timelines established by Facilities Planning; two-way video equipment purchased and installed in

CE

107 per the reserve plan.




Provide RCE expertise and capabilities to help solve problems caused by budget cuts.

Achieved: The successful conversion of Summer Session 2009 to self-support, effective management of January Intersession 2010, and planning for Summer Session 2010 demonstrate the contribution of

RCE

expertise to meet the goal of student success and progress to degree.



Five-Year

Strategic Goal 8:

Strengthen the connection between RCE and the mission and values of Academic Affairs by aligning the unit more closely with the college structure.




Change unit name from Center for Regional and Continuing Education to School or College.

Pending: This goal requires additional focus on

RCE

's value as a partner in creating and delivering academic programs. Strategic efforts to direct revenues to Academic Affairs to meet budget deficits support

RCE

's alignment and contribution to Academic Affairs.