Driving Directions & Transportation
CSU, Chico is 90 miles (145 kilometers) north of Sacramento in the heart of the Sacramento Valley. Enjoy an easy and scenic drive, or travel by plane.

Sacramento International Airport (SMF) is 90 miles south of Chico.

Chico Municipal Airport (CIC) is located 5 miles north of Chico and is serviced by United Express flights that connect through San Francisco International Airport (SFO).

Please note that commercial air service to Chico Municipal Airport (CIC) will stop after December 2, 2014. After December 2, there will no longer be direct air service from San Francisco International Airport (SFO) to Chico (CIC).

If you are booking a flight to Chico that will arrive after December 2, we recommend you fly into Sacramento International Airport (SMF) and utilize the North Valley Shuttle http://www.northvalleyshuttle.com (530)891-1219 as ground transport to Chico (90 miles). The North Valley Shuttle has limited service (twice daily round trips) and reservations are recommended.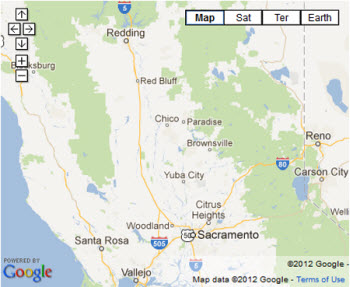 Driving Directions to California State University, Chico
From Highway 99 Traveling North to Chico:
Exit Highway 99 at Highway 32 turning left onto E. Eighth Street to downtown Chico
Continue west to Chestnut Street
Turn right on Chestnut Street and travel six blocks to W. Second Street and the University
From Highway 99 Traveling South to Chico:
Exit E. First Avenue in Chico and turn right
Continue west to the Esplanade and turn left onto the Esplanade into downtown Chico. Esplanade becomes Broadway.
Turn right on W. Second Street and travel three blocks to Chestnut Street and the University
From Interstate 5 Traveling North or South:
Exit I-5 in Orland
Travel East on

CA

-32 through downtown Orland and continuing to Chico (approximately 20 miles)
Once in Chico

CA

-32 becomes Nord Avenue
Turn left on W. Second Street and travel 4 blocks to the University
Driving Directions Via Google Maps
To get driving directions to our campus via Google, enter your address or zip code in the form below.
Alternative Transportation
Rental Cars
All major rental car companies are available from Sacramento. Please call your company of choice.
Shuttle Services
North Valley Shuttle (Chico-based)
Phone: 530-891-1219 or 800-832-4223
Must make reservation ahead of time.

Van Man Charters
Phone: 530-520-4303

Super Shuttle (Sacramento-based)
Phone: 916-648-2500 ext 106
Reserve your spot 24 hours in advance
Pick up and drop off at terminal A & B
Train Service
AMTRAK and Greyhound Bus also have regular service into downtown Chico, although hours are limited. The AMTRAK train depot is located at W. Fifth and Orange Streets, telephone: 895-8000 or 800-872-7246. The train leaves twice daily at 3:06 a.m. southbound and 1:42 a.m. northbound. The San Joaquin is a combination train and bus ride that leaves Chico three times daily, all southbound at 9:25 a.m., 11:55 a.m. and 3:30 p.m. This service terminates in downtown Los Angeles. Contact your local travel agencies for details.
Bus Service
The Greyhound bus depot is located at W. Fifth & Orange Streets. Call them for the schedule and current fares at 530-343-8266 or 1-800-231-2222