CELT Conference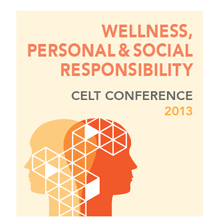 CELT

Conference on Learning and Teaching
Wednesday, Thursday, and Friday,
October 9-11, 2013 - Thank You for Attending!
Presented by the
CSU

, Chico Center for Excellence in Learning and Teaching (

CELT

)






CELT

registration is now closed. Session walk-ins

OK

.
Sponsored by California State University, Chico, Center for Excellence in Learning and Teaching (CELT), the Faculty Recognition and Support Committee (FRAS), and the Office of the Provost, the 2013 CELT Conference offers a wide variety of sessions that will engage you in a thoughtful exploration of the nature of learning and teaching.

This year's CELT Conference theme, Wellness, Responsibility, and Learning, highlights sessions focusing on how we can thrive academically and intellectually when we are well in mind, body and spirit. We will explore the many ways in which we work to enhance student learning and prepare for future success.

University, community college, K-12 faculty, students, and staff are invited to the 19th annual CELT Conference. There is no charge for the conference or the luncheon, but advance registration is required.

Christina Chavez-Reyes, Conference Keynote
CELT is proud to host Christina Chavez-Reyes, Ph.D., as the conference keynote.
She will present:
Re-envisioning the Meaning of University Life: Integrating Learning, Wellness and Personal & Social Responsibility.
Thursday, October 10, 12:30 PM.

Christina Chavez-Reyes is an associate professor and associate chair of the liberal studies department at Cal Poly Pomona. After graduating from UC Santa Barbara, Chavez-Reyes earned a master's in teaching English as a second language, and then completed her doctoral studies at Stanford's School of Education.

She is nationally recognized for her research in the racial, ethnic and linguistic diversity in public education. Her scholarship is focused on how schools, families and communities engage to help these diverse student populations academically succeed. http://www.drchavezreyes.com/about-me.html

Please join us for these timely and informative sessions.

Christina Chavez-Reyes, Ph.D., will also present a faculty hands-on workshop:
Facilitating Critical Social Dialogue to Prepare College Students for Social Diversity in the Classroom, on Campus and Beyond
Thursday, October 10, 3:30 PM.

and a student session:
Am I really making a difference? The Power of an Intentional Service and Relating to Others in Community Service
Friday, October 11, 1:00 PM.
CELT

Conference Awards Luncheon

All conference participants are invited to attend the CELT Conference awards luncheon Wednesday, Oct. 9, 11:30 a.m.-1:30 p.m., in the Bell Memorial Union Auditorium.

CELT will honor John Schwarz, Department of Construction Management, as an Outstanding Teacher and Margaret "Peggy" Rowberg, School of Nursing, as an Outstanding Academic Advisor. 2012-2013 Outstanding Faculty announcement.

Recipients of CELT grants, Excellence in Online Instruction awardees, Academy e-Learn graduates, and TAP project leaders will present a poster session during the luncheon.

The conference and luncheon are complimentary, but require registration.

For more information please call the CSU, Chico Continuing Education office, 530-898-6105, or the Center for Excellence in Learning and Teaching, 530-898-3094.

Disability Accommodations and Services: If you need accommodation or access information please contact the Continuing Education office, 530-898-6105 or email rce@csuchico.edu.

Thank You!