26th Annual California Indian Conference
The California Indian Conference is an annual event for the exchange of perspectives and knowledge concerning the first peoples of the place now known as California, past to present.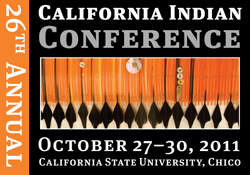 The California Indian Conference (CIC), inaugurated at UC Berkeley in 1985, is committed to the sharing and exchange of knowledge, scholarship, and issues of importance related to California Indians, past to present. The conference also supports the promotion of excellence in collaborative, multidisciplinary, cutting-edge scholarship in Native American Studies, anthropology, history, social and environmental sciences, and other disciplines.
In addition to the full schedule of conference events, we were pleased to offer breakfast, lunch, and dinner to all conference attendees on Friday and Saturday. On Friday, lunch was hosted by the Yocha Dehe Wintun Nation and dinner by the Mechoopda Indian Tribe.
"As the first people whose ancestral lands encompass the city of Chico and the California State University, Chico campus, the Mechoopda Indian Tribe of Chico Rancheria is extremely pleased to take part in the 2011 Annual California Indian Conference. We look forward to celebrating 'Sustaining the Circle of Knowledge' with all of the conference participants." - Sandra Knight, Vice Chairperson of the Mechoopda Indian Tribe
The tribes hosted a wonderful Friday night entertainment lineup, which included Grindstone Rancheria and Pomo dancers. Saturday conference activities included an Elders Panel and a full day Youth Track. Berry Creek Rancheria cooked an authentic Indian Tacos for lunch. Saturday's dinner was a delicious salmon BBQ (salmon donated by Enterprise Rancheria) followed by contemporary Native music featuring northern California's own River Boyz.
On Sunday there was a Traditional Foods potluck lunch at the Butte Creek Ecological Preserve. This meal highlighted traditional foods from around California, including manzanita cider, acorn soup and game meat.
2012 Conference
The 27th Annual California Indian Conference will be held at CSU, San Marcos on October 5-6, 2012.
Learn More
For additional information about the 2011 California Indian Conference, please contact:
Amy Huberland
ahuberland@csuchico.edu
530.898.5438