Learn English in Chico, California - The American Language & Culture Institute (ALCI Chico) at California State University, Chico
Learn English at California State University, Chico through

ALCI

Chico
The American Language and Culture Institute (
ALCI

Chico)

Located on the campus of California State University, Chico, ALCI Chico offers five, seven-week sessions of intensive English language instruction per year to international students of all proficiency levels, from beginning to advanced.
ALCI Chico facilitates a transition from an intensive English language program to an academic program at Chico State or to other colleges and universities in the United States. The program provides general English language skills for students' personal and professional growth, as well as an introduction to American culture and the higher education system in California and the United States.
Find out why thousands of students around the globe have found Chico to be an excellent place to learn English and prepare for their academic success.
Come to a great University, enjoy beautiful California, meet our great faculty at ALCI Chico and make English your second (or third!) language (ESL)!
ALCI

Chico Special Offerings
Open University - Take regular California State University, Chico classes.
Conditional Admission - Conditional Admission to the University without taking the

TOEFL

. Apply to Cal State Chico pending your English language proficiency assessment.

TOEFL

- Prepare for the

TOEFL

through

ALCI

Chico.

TOEFL

testing offered year-round.
Math Preparation Courses - Prepare for University entrance exams or college-level math in courses customized for English language learners.
ALCI

Chico Features
A safe, beautiful campus, in an affordable, California college town.
Small classes with individual attention from experienced faculty and staff.
Conditional admission and access to regular University degree programs and courses for qualified students.
Use of campus facilities including computing, library, health center, recreation and sports facilities.
Fun social, recreational and cultural activities.
Active and fun sports activities and events.
Year-round instruction with a full schedule of courses.
Conversation partners to help you practice your English with native speakers.
Chico, California is a great place! Learn English as your second language (

ESL

), access a great University, and meet new friends!
ALCI

Chico Student News
End of Session - Thank You Students! Thank You Faculty!

ALCI students, staff and faculty recently celebrated the end of Spring Session 1 with a luncheon. Shout out to all our wonderful students and our awesome faculty who make learning English fun and exciting. Thank you students, you have added to our University community! Thank you faculty, you are the best! Join us this summer!
Cross-cultural Leadership Happens Here



Bruno Torres, a mechanical engineering student from Brasil, is part of the Brazil Scientific Mobility Program and is studying English at ALCI. He recently visited the student leaders at the Cross-cultural Leadership Center (CCLC) on campus. "Chico is a great place to practice my English and get to meet a lot of students and find out about the California culture," mentioned, Bruno. ALCI students are always invited to CCLC events and leadership development opportunities. Come to Chico and discover ALCI and the Cross-cultural Leadership Center.
Happy Mardi Gras!


ALCI Chico students got together with the French Club and celebrated American-style Mardi Gras! Thank you French Club!
Student Teams Forming for the 3rd Annual Dean's Cup Futbol (Soccer) Tournament Saturday, April 12

Continuing Education, ALCI Chico, and the WREC are happy to announce the 3rd Annual Dean's Cup, a spring semester Chico State student soccer tournament. Last year, eight teams participated and had fun during the one day tournament. Team Tie-dye won the cup for the second year in a row. Will Team Tie-dye return for 3? If you are interested in registering a student team for this event, please contact the tournament director at: cestudent16@csuchico.edu. See you on the field.
ALCI

Chico Running Club Enjoys the Almonds in Bloom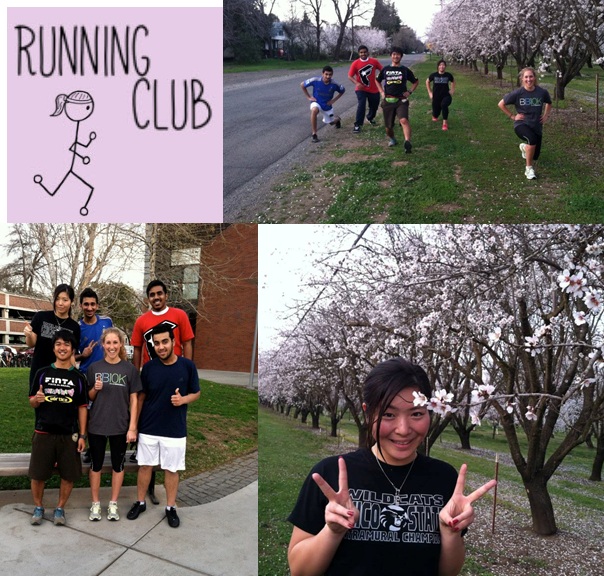 The ALCI Chico Running Club meets once a week to workout and explore the areas around campus and the City of Chico. The runners recently had a chance to take a cross country run through the beautiful almond orchards that are located west of campus. Come to Chico, make new friends, improve your English and explore the natural wonders of Northern California.
ALCI

Chico Students Visit San Francisco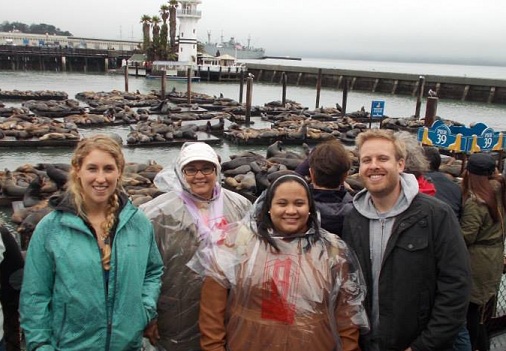 ALCI Chico students had an opportunity to visit San Francisco recently. This included a visit to historic K-Dock at Pier 39, a favorite home of the California sea lion (Zalophus californianus). According to popular lore, the sea lions began using K-Dock after the earthquake of 1989 and have never left. Study English in Chico and discover the beauty of California!
ALCI

Chico Spring 1 Activity Calendar

A full schedule of recreational and social activities! Click on the above image to check out our calendar of events and activities!
Welcome New Students!
Welcome to Chico: your California experience begins here!


Click on the above image to check out our welcome presentation to new students!
Happy New Year!



ALCI

Chico is Celebrating 35 Years
of International Friendships in 2014!


Happy 35 ALCI Chico! Thank you goes out to all our wonderful students, their families, our alumni, international representatives, and our great faculty and staff. Thank you for all the support in making ALCI Chico one of the best intensive English language programs in the United States!
ALCI

Chico Translated Fact Sheets