Preliminary Administrative Services Credential - PASC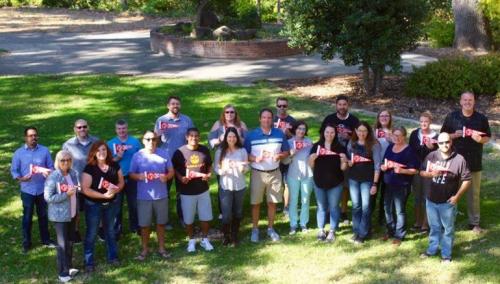 Chico State PASC Program 2018-2019 Cohort
Is Educational Leadership In Your Future?
Would you like to serve as a public school administrator? CSU, Chico's School of Education offers a post baccalaureate Preliminary Administrative Services Credential (PASC) for education professionals seeking a career as a public school administrator.

The PASC Program provides the foundations of educational leadership necessary to qualify for a Clear California Administrative Services Credential granted through the California Commission on Teacher Credentialing (CTC) [1]. With the preliminary administrative credential you can serve as an assistant superintendent, principal, assistant principal, supervisor, coordinator, or other equivalent level administrator in California public schools.
This credential authorizes the holder to provide administrative services for grades K-12, including:
The development and assessment of instructional programs
The management of school site, district, or county fiscal services; hiring, assigning, supervising, and evaluating certificated and classified personnel
Providing discipline to students and employees
Development of student support services
About the CSU, Chico PASC Program
1 year, 4 six-unit courses, 24 semester units. 12 of these units can be applied to an MA in Education
Convenient hybrid model of online and on-campus instruction features Tuesday & Thursday meetings during the month of July and on Saturdays during the fall and spring semesters
Learning as a cohort builds community, fosters creativity, enhances leadership skills, and encourages greater progress
Per unit fee is $350
Updated curriculum meets new California standards
Apply to the PASC Program
The deadline to apply to Cohort 4 is July 1. Classes begin July 2.

• Contact PASC Program Coordinator, Michael Gulbransen, 530-228-6567 [2] or mgulbransen@csuchico.edu [3]

• Complete the Graduate Application for Admission at Cal State Apply [4]

• Complete the PASC Program Application [5]
PASC Course Schedule and Registration
• Spring class registration begins November 1 • Summer class registration begins April 1 • Fall class registration begins July 1
Cohort 4
Summer 2019-Registration Closed, call 530/898-6105
EDAD 631: Educational Leadership: The Literature- 6 units
Meeting Dates: 7/2-8/6, NOTE: July 2 will have an online module only on this day. The remainder class meeting on 7/9, 7/11, 7/16, 7/18, 7/23, 7/25, 7/30, 8/1 & 8/6, 8am-5pm, Tuesday & Thursday in Modoc Hall Room 120.
Fall 2019 - Registration Available July 1
EDAD 632: Educational Leadership: Current Conditions - 6 units Meeting Dates: 9/7-new date, 9/14, 9/28, 10/12, 10/26, 11/2, & 11/23, Saturdays in Modoc Hall, Room 120 (except on 11/2-meets in Modoc Hall, Room 123).
Spring 2020 - Registration Available November 1
Register for the class [6]: EDAD 633: Educational Leadership: What Schools Can Be - 6 units Meeting Dates: 1/25, 2/8, 2/22, 3/7, 3/28, 4/18, & 5/9, Saturdays in Modoc Hall, Room 120).
Summer 2020 - Registration Available April 1
Register for the class: EDAD 634: Educational Leadership: The First 100 Days - 6 units Meeting Dates: 6/6, 6/13, 6/15, 6/16, 6/17, 6/18, 6/19, 6/20, Off Campus at Pleasant Valley High, see instructor for location.
Student Resources