Student Learning Center Workshops
CSU, Chico Student Learning Center Workshops are online video workshops to help you to develop or hone skills that will provide a foundation for an exceptional academic experience. The online application allows you to access the materials anytime, review the presentation multiple times, and print the handouts. The Student Learning Center website [1].
Among these presentations are prep workshops and workshop series for the following standardized tests: CSET Writing Workshop (3 parts), GRE Quantitative Reasoning (3 parts), GRE Writing (4 parts), GRE Math (1 part), and GRE Writing (1 part). These test prep workshops can be accessed by scrolling down past the first 24 presentations on the list.
We believe these presentations will enrich the educational experience of our online students - and all students.
Student Learning Center Workshops
Writing Videos
Test Taking Videos
Tips & Tools for Academic Success Videos
GRE/ CSET Prep Videos
Money Management Videos [2]
Writing Videos
APA Style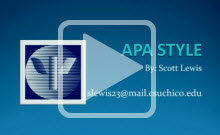 [3]Scott Lewis
CSU, Chico Graduate Student
APA (American Psychological Association) style is a widely-used standard writing format for certain majors, including psychology, sociology, business, economics, nursing, social work, and criminology. This style covers everything from the margins for the printed page to citations and references. Graduate student Scott Lewis explains the basics of APA and provides links to websites for further information. Presentation time: 44 minutes | View Now [3]
Avoiding Plagiarism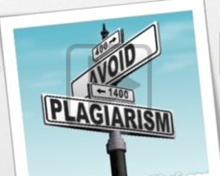 [4]Liz Konecny, Gustavo Martir
Student Assistants, Student Learning Center
Michael Polsan
Student Judicial Affairs
The presenters provide a very straight-forward definition of plagiarism: "Using another's work without giving credit." They then explain various techniques to avoid accusations of plagiarism. The presenters discuss citing of sources, use of direct quotes, and tips for paraphrasing. Presentation time: 38 minutes | View Now [4]
Developing a Research Question that Interests You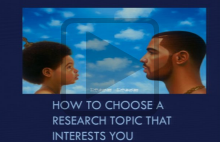 [5]Kevin Klipfel
Information Literacy Coordinator, CSU, Chico Meriam Library]
Kevin Klipfel shows students how to turn a general interest in a subject into something specific that has enough materials for constructing a research paper around a research question. He uses as an example the steps that could be taken to gather information for a paper about the rapper Drake and his approach to authenticity. Klipfel searches his topic through Google with some general keywords and then drills down deeper using other keywords, showing how to refine and narrow results. Klipfel also goes to the CSU, Chico Miriam Library home page, and demonstrates how to search for books, articles from newspapers and popular magazines, and scholarly articles. He recommends combining a variety of sources to support the main point of the research paper. Presentation time: 47 minutes | View Now [5]
How to Write a Unified, Coherent Essay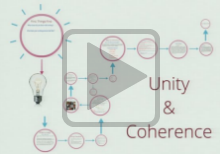 [6]Mike Bluing and Sonoma Koontz
Writing Tutors, CSU, Chico Student Learning Center
CSU, Chico student writing tutors explain the concept of "unity" as a tool to write more coherent essays. Unity in writing means that each paragraph is about only one topic. Further, all sentences within a paragraph tell the reader about one subtopic within the main topic. The presenters go on to give details about this disciplined approach to writing essays, including paragraph development and coherence/flow between paragraphs. Presentation time: 49 minutes | View Now [6]
Organizing and Outlining Your Essay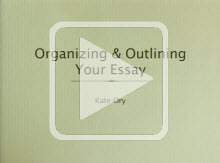 [7]Kate Ory
CSU, Chico Graduate Student
Kate Ory begins her talk by listing and explaining six steps to the writing process: brainstorming, organizing ideas, drafting, revising, editing, and finalizing/turn in. She explains how to construct an outline in order to organize ideas and make an essay read smoothly. As an example, she shares an outline of a final paper she wrote. Finally, she and her audience create an essay topic and outline from scratch. Presentation time: 45 minutes | View Now [7]
Paragraph Development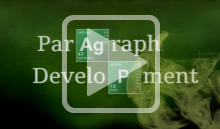 [8]
Brooke Hespeler
Student Writing Tutor, CSU, Chico Student Learning Center
Brooke Hespeler, a Chico State senior majoring in English, explains how to write better essays and research papers by focusing on paragraph structure. She identifies four aspects to paragraph development: every sentence in the paragraph is centered around one idea; the paragraph is clearly related to the thesis of the paper; the paragraph is well-developed; and the sentences within the paragraph are arranged in a logical manner and follow a definite plan. At the end of the presentation, Ms. Hespeler provides information about the writing assistance services available to all Chico State students at the Student Learning Center. Presentation time: 35 minutes | View Now [8]
Prewriting (The Invention Phase)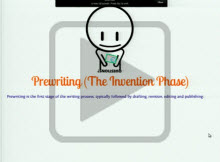 [9]Mike Bluing
CSU, Chico Graduate Student
Mike Bluing defines "prewriting" as the first stage of the writing process, typically followed by drafting, revision, editing, and publishing. He advocates planning before starting to write anything. Bluing defines prewriting as "the phase of invention." He guides workshop participants through the following elements of prewriting: choosing a topic; defining a purpose; determining the audience; gathering and organizing information; and outlining. Presentation time: 53 minutes | View Now [9]
How to Begin Your Essay
Allison Mueting and Alondra Adame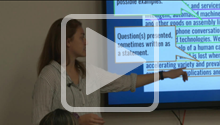 [10]
Writing Tutors, CSU, Chico Student Learning
Beginning is the hardest part when it comes to homework and projects. In this presentation, Alondre Adame and Allie Meuting help teach fellow Chico State students, like yourself, how to begin writing their essays. Listen as they provide valuable tips and tricks for brainstorming and organizing your next paper. Presentation time: 31 minutes | View Now [10]
How to Revise and Edit Your Essay
Allie Mueting [11]
Student Assistant, CSU Chico Student Learning Center
How many times do you usually read over a paper before turning it in? What's your biggest challenge when finalizing your paper? What type of writing do you usually do? Allie Mueting asks these questions to help Chico State students improve their writing skills and peer editing. Although writing an essay can seem simple, trying to polish it and make it look professional can be difficult. Join other students as they learn how to revise and edit an essay! Presentation time: 20 minutes | View Now [11]
Pre-writing: How to Complete Your Essay Before You Even Begin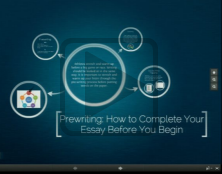 [12]Dani Anguiano and Gina Spadorcio
Writing Tutors, CSU, Chico Student Learning Center
Two CSU, Chico students share their strategies and tips to make the writing process easier, focusing on the first steps to writing a paper or essay. Their multi-point process includes free-writing, clustering, outlining, and mind-mapping. Along the way, they give visual examples of each step. In addition, they describe the services available through the Writing Center, which is a program of the Student Learning Center. Help is available either in the office or online. Using PowerPoint slides, the presenters show exactly how students access these writing services through BlackBoard Learn in their portal accounts. Presentation time: 39 minutes | View Now [12]
Get Writing: Strategies on How to Write Your Essay
Allie Mueting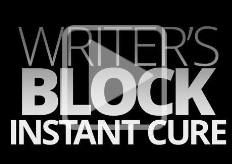 [13]
Writing Tutor, CSU, Chico Student Learning Center
Allie Mueting helps students combat writer's block. If you struggle to begin your essays or need help with their structure, join Allie and students as they discuss how they work through their writing conflicts. Presentation time: 22 minutes | View Now [13]
Writing for a Reader: Knowing Your Audience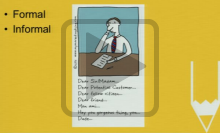 [14]Marissa Luna
CSU, Chico Communications Studies Graduate Student
Presenter Marissa Luna explains how the style of a student's writing can – and should – vary, depending on the audience. She begins with an example of a student writing to her friend about missing events due to illness and contrasts it with a letter by the same student to her instructor about missing a class due to illness. She explains that the person/persons for whom a piece of writing is intended determines what is written, what examples and details to include, and the writing style. Presentation time: 24 minutes | View Now [14]
Writing Made Easy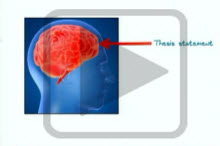 [15]Donna Pierro
Coordinator of Supplemental Instruction
Ms. Pierro starts with the question, "What makes an essay?" She continues with practical tips on how to write an essay, with her focus on the types of writing assignments students are asked to do in their courses. She breaks down the parts of an essay – thesis statement, body, and conclusion – into basic equations. Presentation time: 47 minutes | View Now [15]
Test Taking Videos
Learning More and Testing Better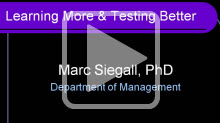 [16]Dr. Marc Siegall
Faculty, CSU, Chico Management Department
You can learn better ways of learning and retaining class materials by developing a knowledge structure. Dr. Siegall also explains how to get the information from your brain onto the exam answer sheet. Presentation time: 39 minutes | View Now [16]
Planning for Finals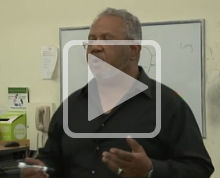 [17]Dr. Aldrich "Pat" Patterson
CSU, Chico Student Counseling and Wellness Center
The final exam in a class is your last opportunity to "seal the deal" on your final grade and what you learned. Learn how to prepare early, study in a systematic way, and anticipate the test questions. Dr. Patterson's presentation is sprinkled with practical tips – study as much as possible during the day, as there are too many distractions in the evening; write papers and finish reading early, so there is time for review before the final exam; carefully organize notes; and much more. Presentation time: 46 minutes | View Now [17]
Planning Your Study Time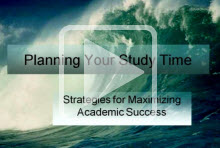 [18]Christine Connerly
Student Learning Center
Planning and prioritization of study time is a key to academic success. Christine Connerly goes into detail about how to set up your study space, how to best use your time, how to set up a study kit, how to plan, and more. Presentation time: 29 minutes | View Now [18]
Preventing Test Anxiety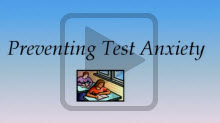 [19]Kristy Phillips & Kelly Greene
Student Learning Center
Are tests the main reason for stress in your life? There are many tips and tricks that can help to reduce the stress of test taking. This presentation will help you understand what can be done to improve test taking skills and reduce exam stress. Presentation time: 20 minutes | View Now [19]
Tips & Tools for Academic Success Videos
How to Send a Proper Email to a Professional or Professor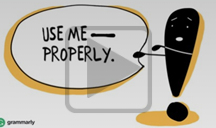 [20]Jennifer Bolte
Tutor Coordinator
Student Learning Center
CSU Chico
Jennifer Bolte, the Tutor Coordinator for the Student Learning Center, coaches students in email etiquette. Learning how to compose a professional letter can impress and influence an authority figure, like professors and future employers. The presentation describes how to write a follow up email when you have not received a response. Jennifer explains taking the time to triple check an email is the most critical part of the process when punctuation and spelling errors are found. Presentation time: 28 minutes | View Now [20]
Avoiding Procrastination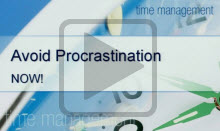 [21]Christine Connerly
Student Learning Center
Don't delay - watch this presentation today! One focus of this workshop is on creating "a cycle of success" that will encourage you to get satisfaction from beginning a task. Time management tips are presented, including a model for an assignment time calculator. Self-motivation tips are also included. Presentation time: 35 minutes | View Now [21]
Avoiding Procrastination - 2018
Cynthia Sarabia and Armando Araujo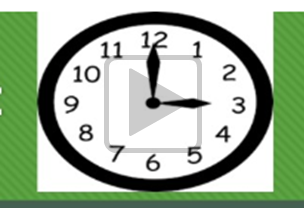 [22]
EOP Student Interns
CSU, Chico
Consider your procrastination habits. What causes you to be sidetracked? What are your goals and priorities? How can we avoid procrastination and achieve these goals? Cynthia Sarabia, and Armando Araujo explore how we can manage our time better, through creating new habits, self-discipline, and other tips and tricks. They reveal how organization can make all the difference in making tasks seem more accessible and less daunting. From using self-reward systems, to learning to say no, Sarabia and Araujo explain the foundations of success and time management. Presentation time: 28 minutes | View Now [22]
Self-care & Stress Management: Yes...You DO have time for that
Dr. Jess Magallanes-Evans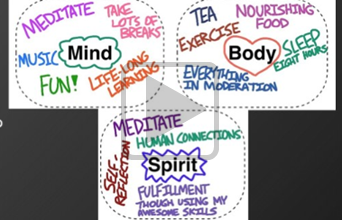 [23]
Counseling & Wellness Center/ UMatter
CSU, Chico
What exactly is stress and how can we manage it? Jessica Magallanes-Evans explores the cognitive, emotional, physical, and behavioral symptoms of extreme stress, and how to recognize them in yourself and others. She reveals the truth behind stress in college, showing just how many students are overwhelmed and not functioning to their full potential. From identifying stress and acknowledging it, to learning how to balance life's challenges, she helps you to create a plan for self-care and wellness that will help you throughout college and your adult life. Presentation time: 39 minutes | View Now [23]
Don't Let Stress Make You a Mess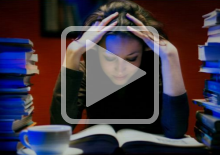 [24]Dr. Stephanie Chervinko
CSU, Chico, Counseling and Wellness Center
Dr. Chervinko starts her presentation by defining stress as "an automatic physical response to any stimulus that requires you to adjust to change." She explains that not all stress is "bad'; stress can motivate people, keep them alert, and help them perform at their peak level. But stress can have a negative effect, including physical symptoms, panic, and inability to concentrate. Dr. Chervinko then lists warning signs that students should watch for before their stress levels get out of hand. She concludes by offering some coping methods. Presentation time: 49 minutes | View Now [24]
Don't Let the Strain Take You Out of the Game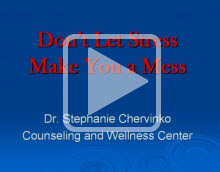 [25]Dr. Stephanie Chervinko
Counseling and Wellness Center
Learn how to cope with, and even prevent, negative stress. Stress can be a positive, as it can motivate you, keep you alert, and help you to perform at your peak level. But too much stress is unhealthy, mentally and physically. Dr. Chervinko looks at how negative stress can be prevented and reduced. Presentation time: 49 minutes | View Now [25]
Effective Note Taking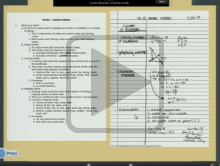 [26]LaTiana Ridgell
CSU, Chico School of Nursing Student
Ms. Ridgell shares with her fellow students the importance of taking good notes; notes that assist in providing clarity, easy access to specific topics, and productive study methods. She discusses and shows examples of different note-taking methods, including outline, Venn diagram, and the Cornell method. She also shares examples of note-taking software. Ms. Ridgell recommends that students choose the note-taking style that fits their learning style. She also recommends that students review their notes as soon after class as possible and, if there is something that they don't understand, go to the professor to ask questions. Presentation time: 35 minutes | View Now [26]
Effective Note Taking - 2019
Emilio Cruz and Cynthia Sarabia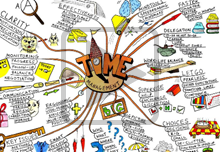 [27]
Educational Opportunity Program
CSU, Chico
Effective note taking can make a huge difference when it comes to college coursework. In this presentation, Emilio and Cynthia demonstrate how to discover which note taking style is right for you. If you need to improve your note-taking skills or never learned which style of notes works best for you, watch Emilio and Cynthia's presentation. Presentation time: 25 minutes | View Now [27]
Effective Reading Strategies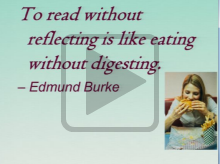 [28]Christine Connerly
CSU, Chico, Student Learning Center
Christine Connerly has taught reading and other study skills at the college level for many years. In this presentation she discusses strategies that students can use to experience the power of reading as a key to academic success. She emphasizes "active" reading over "passive" reading, and presents tips to improve reading speed and comprehension. Ms. Connerly also explains the SQ3R method of reading study skills: Survey the reading materials, ask Questions about the materials, Read, Recite, and Review. Presentation time: 42 minutes | View Now [28]
Finding a Mentor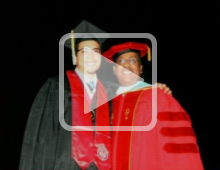 [29]Marcellus Brookshaw
Advisor, CSU, Chico Educational Opportunity Program
Marcellus Brookshaw explains the importance of a mentor from personal experience. He arrived in Chico as an Educational Opportunity Program (EOP) student, the first person in his family to go to college. From there, he earned his BA and went on to earn a master's degree at the University of Southern California before he was hired for his current position in Chico State's EOP program. Marcellus credits his mentor, Dr. Pedro Douglas, Associate Vice President for Student Affairs, with helping him every step along the way. When Marcellus was a freshman, Dr. Douglas saw his potential as a student affairs professional. From there, Dr. Douglas provided encouragement, motivation, a positive voice, help in preparing for graduate school, networking assistance, and more. Marcellus encourages the students in his audience to find their own mentors. Presentation time: 33 minutes | View Now [29]
Mastering Study Skills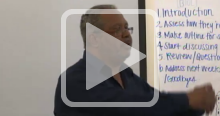 [30]Dr. Aldrich "Pat" Patterson
CSU, Chico Counseling and Wellness Center
Dr. Pat Patterson has been helping CSU, Chico students meet their academic goals for 31 years. He starts this presentation by giving an inspiring pep talk about how to approach college, how to set goals, and how to strive for excellence. He then discusses essential study skills – for example: time management, list-making, exam preparation, and the "SQ5R" method of reading and note taking. Hear Dr. Patterson tell the story of his journey from East Los Angeles – where his third grade teacher said he would never learn to read – to earning his PhD and embarking on his long career as a counselor at CSU, Chico. Presentation time: 51 minutes | View Now [30]
Memory & Concentration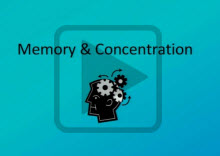 [31]Cecily Nelson-Alford
Educational Opportunity Program
Learn the tips and tricks to memory and concentration enhancement. Presentation time: 18 minutes | View Now [31]

Motivation & Success

[32]Caitlin Cunningham
Student Assistant, CSU, Chico Student Learning Center

CSU, Chico graduating senior Caitlin Cunningham shares ways students can motivate themselves for success. She talks about the importance of developing a strong support system, including family, friends, advisers, RAs, coaches, religious leaders, and counselors. She reminds students to engage in self-encouragement and positive attitudes. Self-encouragement is presented as one way students can motivate themselves in class. Presentation time: 35 minutes | View Now [32]

Preventing Math Anxiety

[33]Dominique Silva
Student Math Tutor, CSU, Chico Student Learning Center

Dominique Silva helps her fellow students to overcome math anxiety. In this workshop, she defines what math anxiety is, explains what causes it, discusses other settings where math is required outside of the classroom, explores resources to assist students, and talks about ways to prevent and ease math anxiety. She advises students to have a confident attitude, break problems down into small steps, seek help from teachers and tutors and, if necessary, change their study habits. Presentation time: 26 minutes | View Now [33]
Public Speaking: The Art of Keeping Cool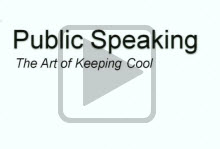 [34]Taureanna Shimp
CSU, Chico Communications Major
Studies have shown that one of the most common fears people have is that of public speaking. Taureanna shows you how an organized presentation, combined with the right verbal and non-verbal communication skills, can make public speaking easier. She includes practice strategies and memorization tips you can use in your next class presentation - or any time you speak to a group. Presentation time: 24 minutes | View Now [34]

Time Management

[35]Quinn O'Brien
Student Assistant, Student Learning Center

In this presentation, Quinn explains pitfalls that result in poor time management and how they can be avoided. He outlines several time management strategies and includes various tips to help students get the most out of their study time. Quinn shares his own time management successes and failures in ways – often humorous – that his fellow students can empathize with and understand. Presentation time: 23 minutes | View Now [35]
GRE/ CSET Prep Videos
What is the GRE?
Tavona Lindo and Sabrina Contreras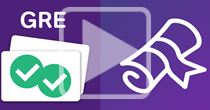 [36]
Student Assistants
Student Learning Center
The GRE is a standardized test that is an admissions requirement for most graduate schools in the United States. In this presentation, Tavona and Sabrina provide the audience with basic information regarding how to register, format and content. If you would like to learn more about the GRE, there is a second presentation that is more in-depth. Presentation time: 18 minutes | View Now [36]
CSET Writing Workshop Part One: The Basics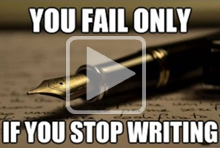 [37]Stephanie Evans
CSU, Chico Writing Center Tutor
This presentation is the first of three Student Learning Center workshops to help students prepare for the writing portion of the California Subject Examinations for Teachers (CSET). Stephanie Evans, an experienced writing tutor and ENGL 130 (Academic Writing) instructor, begins by providing an overview of the CSET structure and scoring system. She also covers the differences between expressive and expository essays, which are both part of the test. She then describes the different areas in which the essays are scored and provides time management strategies. Presentation time: 57 minutes | View Now [37]
CSET Writing Workshop Part Two: The Expository Essay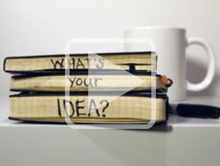 [38]Stephanie Evans
CSU, Chico Writing Center Tutor
Writing tutor Stephanie Evans addresses the expository essay part of the California Subject Examinations for Teachers (CSET). The expository essay begins with identification of a topic/thesis. She starts out by answering a basic, but very important question: What is a thesis? After that, Evans lists the following key points for a successful essay: list facts and details; pump up ideas; group and organize ideas; use topic-related words; and, describe examples. She also explains terms like "hook," "transitions," and "academic tone." Presentation time: 56 minutes | View Now [38]
CSET Writing Workshop Part Three: The Expressive Essay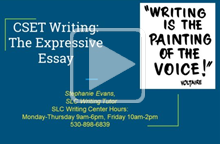 [39]Stephanie Evans
CSU, Chico Writing Center Tutor
In the third and final presentation of the series of workshops for the writing portion of the of the California Subject Examinations for Teachers (CSET), writing tutor Stephanie Evans gives students information about how to do well on the "expressive essay" part of the exam. She provides a three-step strategy for how to develop a main idea, followed by approaches to using structure as the framework for a successful essay. Presentation time: 43 minutes | View Now [39]
GRE Math Prep Workshop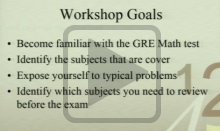 [40]Elizabeth Jachens
Student Learning Center Tutor
This workshop is designed to prepare students for the quantitative reasoning portion of the exam. The workshop provides participants with an overview of the GRE structure and scoring, effective test-taking strategies, and practice problems. View Part 1 [40] (58 Minutes) | View Part 2 [41] (35 Minutes)
GRE Quantitative Reasoning Workshop: Part One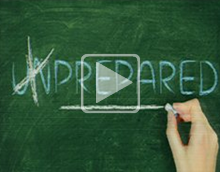 [42]Rigoberto Vazquez
CSU, Chico Mechanical Engineering Student; Math & GRE Tutor
In this first part of a three-part workshop, Math & GRE Tutor Rigoberto Vazquez gives general information about the Quantitative Reasoning part of the GRE. He identifies the subjects covered, solves typical problems in a step-by-step manner on a white board, and provides a preview of how the exam looks and how it is set up. He also explains four types of methods that are used to answer a problem. Presentation time: 1 hour, 2 minutes | View Now [42]
GRE Quantitative Reasoning Workshop: Part Two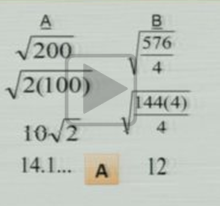 [43]Rigoberto Vazquez
CSU, Chico Mechanical Engineering Student; Math & GRE Tutor
In the second segment of a three-part workshop, GRE Tutor Rigoberto Vazquez provides directions and strategies for three types of questions that are included in the GRE Quantitative Reasoning exam. These include quantitative comparison, problem solving, and data interpretation. He lists the number of questions students can expect in each category. Presentation time: 1 hour, 16 minutes | View Now [43]
GRE Quantitative Reasoning Workshop: Part Three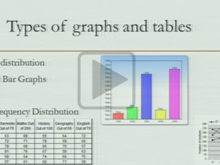 [44]Rigoberto Vazquez
CSU, Chico Mechanical Engineering Student; Math & GRE Tutor
The focus of this final segment of a three-part GRE Quantitative Reasoning Workshop is data interpretation. Workshop leader Rigoberto Vazquez tells students that they should expect questions on the exam that cover six areas of data interpretation: graphically and numerically described data; counting methods; probability; distribution of data; random variables; and probability distributions. He offers principles and steps for data interpretation. These include a focus on various types of graphs and tables and how to interpret them. Presentation time: 53 minutes | View Now [44]
GRE Writing Preparation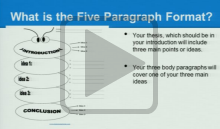 [45]Dani Anguiano
The Writing Center-CSU, Chico Student Learning Center
Dani Anguiano teaches her fellow students about the Analytical Writing portion of the GRE (Graduation Record Examinations), part of the standardized test that is an admissions requirement for most graduate schools in the United States. As she explains, the GRE Writing Measure consists of two timed essays that test the student's critical thinking skills and ability to articulate an argument. Ms. Anguiano shares information about how the essays are scored, how to best prepare, how to tackle the exam question, and how to create an introduction, three main points, and a conclusion. Contact information for resources is provided, including where to find sample exercises and how to receive assistance through the CSU, Chico Writing Center. Presentation time: 28 minutes | View Now [45]
GRE Writing Workshop Part One: The Basics, Argument/Issue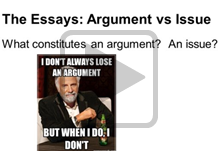 [46]Eric Dunk
CSU, Chico English Graduate Student & Student Learning Center Tutor
This four-part workshop is a "must" for students who plan to apply to graduate school. This is the second time English graduate student Eric Dunk has taught the workshop. He also works as a tutor at the Chico State Writing Center. Dunk's overall goal for the series of workshops is to present strategies to students to help them write in a style which will allow them to do well on the GRE. In this session, he describes how the writing part of the GRE is set up. He also gives examples of the difference between the GRE prompts for arguments vs. issues. Presentation time: 1 hour, 27 minutes | View Now [46]
GRE Writing Workshop Part Two: Review of Basic Essay Structure and Theses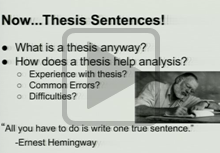 [47]Eric Dunk
CSU, Chico English Graduate Student & Student Learning Center Tutor
In this part of his four-part GRE Writing Workshop, Student Learning Center Writing Tutor Eric Dunk explains the concept of "Prewriting" and its four components: freewrite, mind map, bullet points/list, and outline/brainstorm. He also focuses on thesis sentences and what he calls "the Q and A" method. Dunk provides tips on how students should manage their time while taking the GRE. Presentation time: 49 minutes | View Now [47]
GRE Writing Workshop Part Three: Tackling the "Argument" Essay Requirement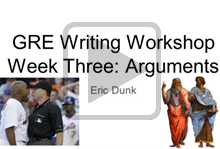 [48]Eric Dunk
CSU, Chico English Graduate Student & Student Learning Center Tutor
Student Learning Center Writing Tutor Eric Dunk gives tips to students about how to tackle the "Argument" essay requirement of the GRE exam. In this part of the exam, students are asked to evaluate the logical soundness of the argument presented by a writer. Dunk explains that this requirement is meant to demonstrate analytic skills and clear, pointed, and concise writing. He delves further into the subject by defining deductive and inductive arguments. Presentation time: 44 minutes | View Now [48]
GRE Writing Workshop Part Four: Issue Essays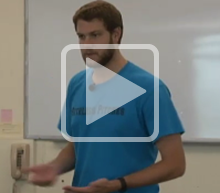 [49]Eric Dunk
CSU, Chico English Graduate Student & Student Learning Center Tutor
In the final presentation of his four-part GRE Writing Workshop series, Eric Dunk, a writing tutor in the Student Learning Center, leads students through an approach to the Issue Essays portion of the GRE. He defines the term "issue essay" as it relates to the GRE, what the people who score the test are looking for, and what students should include to achieve a high score. He provides several examples of the type of subject about which students will be asked to write, and then he discusses how students can build an essay around each subject. Presentation time: 53 minutes | View Now [49]
Money Management

Budgeting Your Money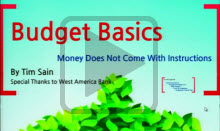 [2]Tim Sain
CSU, Chico Educational Opportunity Program (EOP) Advising Intern
With interactive games and a sense of humor, presenter Tim Sain shows that budgeting doesn't have to be boring. During this fast-paced presentation, he explains the tools of budgeting and offers budgeting "traps and tips." Presentation time: 34 minutes | View Now [2]
Money 101: Budget and Credit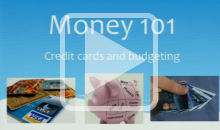 [50]Natalie Wren and Erin Wilson
Staff, CSU, Chico Student Financial Services
The speakers use their daily experience in working with students about financial matters – and their own personal experience – to present suggestions about how to avoid credit card debt. They start with a dramatic example, explaining that if a person has a $3,000 credit card balance at 17% interest and pays only a minimum $50 payment per month, it takes 38 years to pay off the debit – and the person ends up paying $10,553. To help students avoid such situations, the presenters pass along tips for planning ahead and budgeting. Presentation time: 31 minutes | View Now [50]
Money 101: Graduation and Student Loans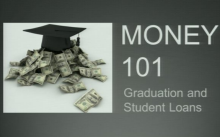 [51]Darnell Lee and Natalie Wren
Staff, CSU, Chico Student Financial Services
Two employees of the CSU, Chico Student Financial Services office discuss how students who are graduating with loans to repay can avoid financial pitfalls. They start with basic information that students should know about their loans when they graduate: how much they owe; when they need to start making payments; what their options are for repayment; and what happens if they cannot pay. It is especially important to prepare carefully for repayment. The presentation also includes a quick overview of how to budget. Presentation time: 41 minutes | View Now [51]
Scholarships 101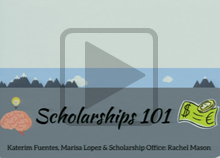 [52]Katerim Fuentes, Marisa Lopez and Rachel Mason
CSU, Chico Financial Aid & Scholarship Office
This presentation informs students about scholarship opportunities to help with university expenses. Three types of scholarships are discussed: the Middle Class Scholarship; CSU, Chico Scholarships; and External Scholarships. Students are told how to qualify and apply for these scholarships. The presenters also provide tips on how to write the most effective application statements. Presentation time: 20 minutes | View Now [52]