On Friday, April 21, the Chico Great Debate, a day-long event sponsored by the Department of Communication Arts and Sciences and the First-Year Experience Program, will host a letter-writing forum for all interested members of the campus and community. "Express Yourself," is a letter-writing forum and this year for the first time Chico State Online students are encouraged to participate.
Below is information regarding California's two US Senators and how to learn more about your local US Representative. We have also included links to model letters to elected officials. If you have never written a letter to an elected official, this is a helpful way to begin. Please take advantage of this opportunity to participate in our democracy.
Model Letters
[1]
• Letter Writing Advice [2]
• Sample Letter #1 [3]
• Sample Letter #2 [1]
State Senators
Senator Dianne Feinstein
Website [4]
Issues [5]
Press Releases [6]
Mailing Address:
Senator Dianne Feinstein
United States Senate
331 Hart Senate Office Building
Washington, D.C. 20510
Senator Kamala Harris
Website [7]
Issues [8]
Mailing Address:
Senator Kamala Harris
United States Senate
112 Hart Senate Office Building
Washington, DC 20510
Congressional Representatives
If you would like to write to your California House Representative, you can search by zip code for your Representative on the official House of Representatives website [9]. Each listing includes the representative's website and email links.
Once you have found your Representative, you can learn more about their positions on their "Issues" webpage. For example, Doug LaMalfa is the Representative for the Chico area. "Issues" is one of the menu items on his home page.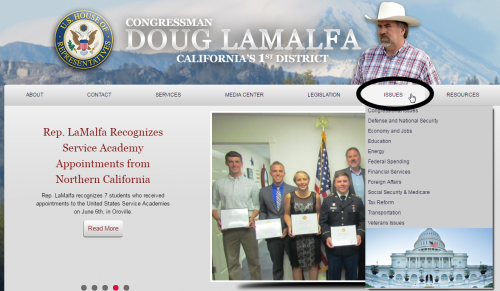 Additional Resources
ISSUEVOTER.ORG [10]
Sign up (for free), choose issues before congress that you're interested in knowing about, are provided with a summary of the bill, both supporting and opposing views, and related news, and then click "support" or "propose," which sends an electronic notice to your representative. You can also keep track of issues, what you weighed in on, and how your rep voted.
USA.GOV—Contact Elected Officials [11]
Find contact info for federal & state elected officials, plus city mayors, county and local government officials.