Degree Completion Programs in Redding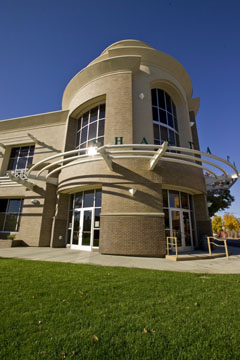 [1]Through Chico Distance & Online Education the CSU, Chico College of Business offers a degree in Business Administration to students in the Redding area. Many courses are offered on site at the Shasta College University Center in Downtown Redding, and others are delivered online, providing maximum flexibility and access. These courses serve as the building blocks for a successful Business Administration degree, whether you choose to complete your degree entirely in Redding or at the Chico campus.
Upper-Division Core Completion
All CSU, Chico Business Administration transfer students studying Project Management, Human Resource Management, Entrepreneurship, Marketing, Finance, and Accounting can complete their first year of upper-division core courses [2] in Redding.
Management Option for Business Administration
Students transferring into the Chico State College of Business can complete their business administration degree without traveling to Chico, if they specialize in the management option. The Management Option is designed to develop skills in the administration of human and physical resources, to foster decision-making and entrepreneurial thinking, and to provide exposure to diverse business environments and management strategies. From analysis of system dynamics to corporate social responsibility to employment law, recent graduates have prepared for a variety of career paths in companies such as Oracle, Yelp, KPMG, and UPS.
Take the Next Steps Toward a Future in Business Administration
Application Information

The application period for fall 2022 started October 1, 2021 and continues through December 15, 2021. The application period for spring 2023 is August 1-August 31, 2022.

• Application Periods and Process [3]

Open University

If you are interested you may be eligible to take courses without being admitted to the University through Open University [4].
Advising & Program Information
Business Student Advising & Services
Kristina Brown, Advisor
kbrown60@csuchico.edu [5]
Telephone: 530-898-4480 [6]