About Regional & Continuing Education
A Tradition of Education and Service to the World
Founded in 1887 on the grounds of pioneer John Bidwell's Ranchero, California State University, Chico is one of the oldest institutions of higher education in California. Ranked as one of the top public universities in the west, CSU, Chico has built a tradition of excellence in teaching, scholarship, research, and service. To extend the mission of the university, the CSU, Chico Center for Regional & Continuing Education delivers educational programming and services to more than 10,000 students and professionals annually.
Serving The Campus
Recognizing the varied needs of the on-campus student, Continuing Education administers a schedule of credit and non-credit courses beyond the regular university class schedule. To increase access, Continuing Education administers accelerated academic sessions during the winter and summer.
To support lifelong learning for those age 50+ or retired, CSU, Chico Continuing Education administers the Osher Lifelong Learning Institute and ElderCollege on campus.
Serving Northern California
As the anchor institution in Northern California, CSU, Chico serves a twelve-county service area, the largest in the 23-campus California State University system. Continuing Education is dedicated to providing higher education access to this distributed population through regional programs, Open University, and the delivery of accredited certificates and degrees.
In addition to degree programming, every year Continuing Education provides continuing education courses and conferences for professionals.
California & Beyond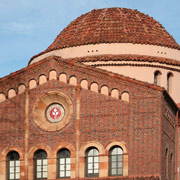 For more than 35 years, CSU, Chico has provided customized distance education services to corporations, government agencies and individual clients. CSU, Chico initiated the world's first satellite-delivered masters program in computer science and continues its leadership with online degree and certificate programs based on live Internet-based video direct to the desktop.
Continuing Education is also home of the American Language and Culture Institute at California State University, Chico (ALCI Chico), which offers an intensive English language program for international students.

Continuing Education also develops special programming for international study abroad programs and professional groups.