Spring '19 ElderCollege Orientation
Tuesday, January 15, 2019 - 1:00pm
Join Us
for
the Next ElderCollege Orientation!
The next orientation is Tuesday, January 15, 2019
1-2 PM in the Continuing Education Classroom (CE 107) on campus. [ map [1] ]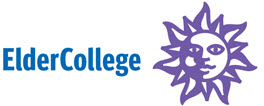 ElderCollege is a great way to explore new disciplines and enjoy learning for the joy of it! Persons age 60 and over can register to take Chico State classes on a non-credit, space-available basis with the permission of the instructor. As a guest in the course, you'll gain the knowledge you desire without required homework! If you wish to do assignments and take tests, just request permission from the instructor. You may attend any number of classes in a given semester for a $60 fee and it includes eligibility for a library card and an email account.
Enrolling is easy! To take advantage of this opportunity, simply select classes from the online Chico State schedule [2] and then follow the ElderCollege Registration instructions [3].
If you have any questions, please contact Continuing Education at 530-898-6105 or rce@csuchico.edu [4], or stop by our office on campus [1].