Welcome Volunteer Instructors!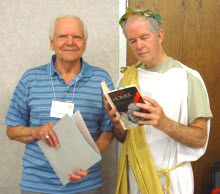 OLLI at CSU, Chico is an academic cooperative providing our more than 1,000 members opportunities for intellectual development, cultural stimulation, and social interaction. OLLI's educational program is centered on classes developed and taught by volunteers who share their time and knowledge.
Share your passion
Interact and engage with peers and community members
Help develop innovative, interesting and compelling learning experiences
Join a national movement of adult learners at the only Osher Institute in a 12-county radius
Without the participation of our Volunteer Instructors, OLLI wouldn't be possible!
Resources to Help You Succeed
We have grown our volunteer instructors support capabilities and expanded this website to serve as the one-stop resource for all of the information you need, including key dates and volunteer instructors events, resource documents, and special notes you'll need to stay informed and connected to your students, your Curriculum Committee, and to OLLI.
Choose a Topic:
Course Proposals
Do you wish to lead a class in an upcoming term(s)? You can submit a course proposal here prior to each term. The link to the online proposal form will be shown when the proposal period opens.
Important Dates & Events
| | |
| --- | --- |
| August 18 | Virtual Fall Class Preview |
| August 19 | In-Person Fall Class Preview |
| August 24 | Volunteer Instructor Registration |
| August 26 | Registration |
| August 31, September 1 & 9 | A/V Trainings |
| September 8 | Virtual Volunteer Instructor Orientation |
| September 9 | In-Person Volunteer Instructor Orientation |
| September 13 | First Day of Fall Classes |
| October 18-29 | Fall Break |
| November 11 | Veterans Day, No Classes |
| November 22-26 | Thanksgiving Break, No Classes |
| December 10 | Last Day of Fall Classes |
Membership Policy
Paid membership is a requirement for enrollment in any OLLI course, excursion, or event. OLLI volunteer instructors are also required to pay for a membership in any term(s) in which they lead a class. OLLI was founded on the concept of a peer-led, member-driven model initiated in 1988 under the original name "Prime Timers." The membership policy has been implemented to allow us to report OLLI membership statistics according to reporting requirements of our major benefactor, The Bernard Osher Foundation. It also enables us to better forecast for planning and budgeting purposes.
Audio/Visual Training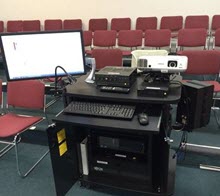 Training on our A/V equipment is required to lead an OLLI class. Prior to the start of each term, a schedule of training sessions is published and sign-up sheet distributed to all peer leaders who've requested A/V equipment in their classroom. The User's Guide For A/V Equipment is also required reading, artfully crafted by members of the Facilities Committee.
A/V Training Sessions:
Even if you are not sure whether you will be using the audio visual equipment, please come check out the setup because it is very high quality and much easier to use than previous OLLI equipment collections. So, mark your calendars and plan an hour or so at an OLLI classroom play with the equipment. Bring samples of your presentation materials or files so you can practice with them. We want you to reach the point that you are comfortable and confident that you can operate the equipment by yourself.
For specific dates, times, and additional information, see the Important Dates above and also watch for an email(s) from the OLLI office.
Listening Assistance Devices
It is frustrating to be interested in class material and unable to hear. Thanks to generous donations from our members, OLLI recently upgraded four media carts and added voice amplification equipment in the classrooms at The Social Chico. Our A/V team will provide practice sessions with the microphone, wireless transmitter, and speech amplifier during the required A/V training. (See above.)
Instructions for Posting Class Materials Online
Please send class syllabi, reading lists, and/or other reference materials to the OLLI office for posting to the OLLI site. PDF files are preferred since most members have the free application needed to view them. If you do not know how to create a pdf file, you can send a Word or Excel document and we can create it for you (but there may be a delay in posting your materials). The materials will be available on the online schedule by clicking on the title of the class.
Waitlists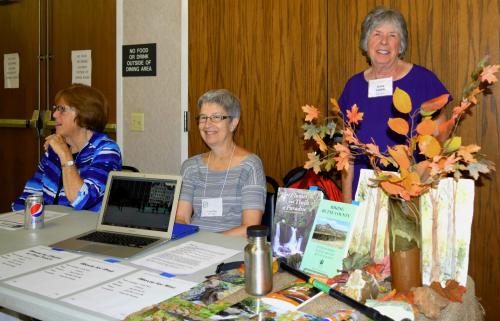 The OLLI online registration system allows members to enroll themselves in a class until the cap for the class is reached. Thereafter, a member has the option to list him or herself on a wait list. The OLLI office will work closely with volunteer instructors whose classes have exceeded capacity by updating them on the status of their waiting lists. If seats become available early in the semester, the volunteer instructors will be encouraged to contact those waitlisted and invite them to join the class. If spots don't open up, and if those waitlisted are not successfully enrolled into the class, then they will have the option of being pre-enrolled into the same class the following semester...but only if the same class is being offered again. The OLLI Office will facilitate the process of contacting waitlisted members and pre-enrolling them in the new class, as applicable.
Class Cancelation Policy
Should a volunteer instructor be unable to lead a class(es) as scheduled, he/she MUST contact the OLLI office as soon as possible. Due to contractual obligations, OLLI staff is required to inform venue managers if a class is not meeting. In addition, volunteer instructors should notify students in the class using the class roster.
Holidays Observed
It is the policy of the Advisory Council that classes do not meet on observed holidays and/or during University breaks when classes are not in session. See Important Dates above for a list. As part of a service to peer leaders, OLLI committee leaders use these days for A/V training, PowerPoint training, equipment upgrades, classroom upgrades, and other purposes. With more than 100 classes each semester, there is very little time to service equipment and/or classrooms and these holidays and breaks provide a much needed window for various services.
Volunteer Instructor Conduct
In order to protect and maintain the academic freedom of the University and the non-profit status of the Chico State Enterprises, of which OLLI is a sponsored program, volunteer instructors are required to observe the following restrictions:
The organization shall not support or oppose any political party, candidate, or political issue.
The membership list and personal information to include names, addresses, phone numbers, and e-mail addresses shall not be used for non-organizational related activities or fundraising without the written consent of the Program Director.
Classes shall not be used to promote political positions or candidates.
Classes shall not be used to sell or promote products or services, or to generate client lists.
The organization shall adhere to all administrative, financial, and operational policies as set forth by the California State University, Chico; Chico State Enterprises; and CSU, Chico University Foundation.
While classes on historical cultures and traditions are welcome, promotion of sectarian religious viewpoints must be avoided. Should you encounter any problems or concerns, you are encouraged to contact the OLLI office at 530-898-6679 or email olli@csuchico.edu.
Advertising of all OLLI classes and programs shall be coordinated through the OLLI Office. OLLI classes and programs may not be promoted outside of the OLLI Membership, with or without using the OLLI name, without the express approval of the OLLI Director or designee.

OLLI Culture
The OLLI organization and culture offers many benefits to its members. In addition to education and lifelong learning, it also serves as an important social network and community. As a Volunteer Instructor, you represent the OLLI culture, which requires that you treat fellow peer leaders, class members, and facilities staff and students with respect, dignity, and appreciation.
Note: Please refer any problems with classroom environment to the OLLI office rather than The Social Chico or other facility staff.
Volunteer Instructor Obligations
Attend the Class Preview program.
Attend the Volunteer Instructors Orientation.
Attend all scheduled classes in which you are in charge. If you need to miss a class for any reason, please let the OLLI office know as soon as possible.
Be available by phone or email for members' questions.
Set-up and clean-up your classroom. If another class is not scheduled immediately following yours, turn off the audio visual equipment, lock the door, and return the key.
If you experience any problems with your classroom facility or equipment, notify the OLLI office
Liability Waivers
OLLI is a sponsored program of the Chico State Enterprises (CSE). Current membership is required for full coverage under the CSE liability waiver policy. A checkbox for waiving of liability is part of each membership application form, both in print and online. Additionally, Volunteer Instructors are required to complete a Volunteer Information Form to hold him or her harmless if a member is injured (or property is damaged) at or during a class. These completed forms combine to (1) recognize membership in a CSE-sponsored program, and (2) acknowledge volunteer participation of the signatory in a volunteer capacity (peer leader).