There are Many Ways to Donate
Become a "Logan's Hero"
In honor of our founders and of Prime Timers' first president, who envisioned that our organization would "endure the passage of time," we are launching the Milon "Bud" Logan Lifelong Learning Campaign to ensure that OLLI can continue to serve adults in Chico and surrounding communities. Our goal over the next three years is to raise $100,000 through member donations and leadership gifts. This fund will create a reserve that is critical to the long-term sustainability of this program and allow us to expand the variety of programming that makes the OLLI experience rich.
There are several ways you can help us celebrate 30 years of lifelong learning at CSU, Chico and achieve our campaign goal. Every gift and every dollar counts. Can we count on you?
Become a Sustaining Member


Our goal is 100 donors pledging $25 per month for 3 years.

Become a Tower Society Member


Our goal is 5 leadership gifts of $3k per year for 3 years.

Become a Legacy Donor

Make a bequest to help to ensure our sustainability long into the future.

Make a One-Time Donation

Every dollar helps. Every dollar counts. Every dollar is appreciated!
Your donations support OLLI's broad goal of enhancing quality of life and health outcomes for people 50 and better through rich diversity of class offerings, opportunities for connection and social engagement, and modern, comfortable facilities for learning. Thank you!
Purchase a Gift Membership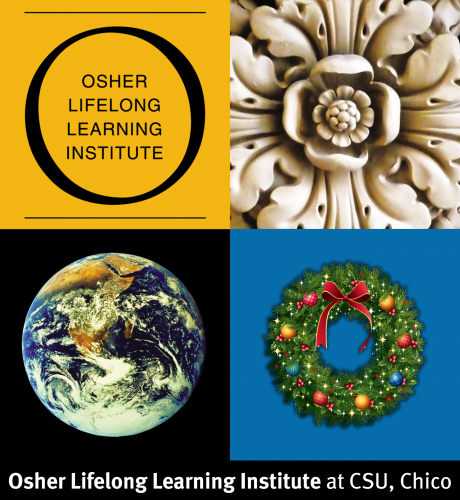 Need a great holiday present for that special person on your list? Consider a gift membership in OLLI at CSU, Chico! "It's like a gym membership for the mind," according to Paul Nussbaum, Ph.D., clinical neuropsychologist & international consultant on aging and health promotion. And we think it's a lot more fun!
• Purchase a gift membership online
• Purchase a gift membership by mail
Honor Someone You Love
A donation can be made to OLLI to remember or honor someone.
Consider Us When Planning Your Estate
Want to help OLLI? Leaving a gift in your will or bequest gifting through a charitable trust, gift annuity, life insurance, pension plan, IRA, or through real estate. There is a wide range of gifting vehicles that can provide you income for a lifetime along with valuable tax savings.