Peer Leaders
Audio/Visual Resources

Media Carts
Since March 2015, our OLLI chapter has provided a professional quality multimedia system in each of our four major classrooms in Chico – Gordon 1, Gordon 2, Bradley, and Chico New Thought Center.
Each cart includes:
2011-2013 OLLI Advisory Council Chair
During my time as Advisory Board Chair, I have learned a great deal about the inner workings of OLLI and gained a deeper appreciation for the dedication of the part-time paid staff and OLLI volunteers. Our most visible volunteers are our peer leaders. They are the life-blood of this OLLI chapter, and we need to be sure to let them know how much they are appreciated. If OLLI were to be compared to a hit Broadway play, our peer leaders would be the stars.
Welcome Peer Leaders!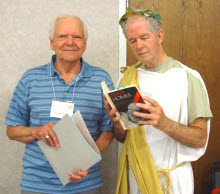 OLLI at CSU, Chico is an academic cooperative providing our more than 1,000 members opportunities for intellectual development, cultural stimulation, and social interaction. OLLI's educational program is centered on classes developed and taught by volunteers who share their time and knowledge.