intersession
It's time to make plans for Winter Session.

Get the courses you need to graduate on time.
Earn units on campus or online at home during winter break.

FOR

IMMEDIATE

RELEASE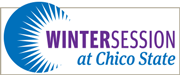 Date: 01-09-2015
Sarah Langford
Public Affairs
530-898-4260
Earn 3 Units in 3 Weeks! January Intersession 2010 runs January 4 - 22. Registration starts November 3. For the current schedule and the most up-to-date registration information please visit the January Intersession Web site at http://rce.csuchico.edu/intersession
A FAQ is posted and is available online. If you have questions please feel free to call the Continuing Education Office, 530-898-6105.