Degree Completion Programs in Redding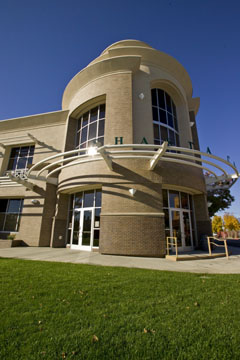 CSU, Chico is excited to offer the Management option for Business Administration majors to students in the Redding area at the Shasta College University Center in Downtown Redding. Many courses are offered on site at University Center, and others are delivered online through Chico Distance & Online Education, providing maximum flexibility and access for Redding-area residents. Students may be eligible for scholarships and financial aid.
• Learn More About the Program

• Application Periods and Process
Fall 2018 Late Application Process Ends July 15, 2018
It is not too late to apply to the University, be accepted, and start earning a degree this fall. The University's Office of Admissions is accepting "Hardship Application Letters" through July 15 from students interested in starting the Management option for Business Administration in Redding. Interested students must submit a letter stating their desire to attend Chico State in fall 2018. The hardship letter must include the applicant's phone number, email address, and official transcripts from each college attended.
The hardship letter and transcripts must be mailed to:
Office of Admissions
Attn: Hardship Committee
Student Services Center
400 W. First Street
Chico, CA 95929-0722
If you have questions regarding this process please contact Dan Greaney 530-339-3652.
College of Business Info Sessions in Redding Soon
Call our coordinator in Redding, Dan Greaney 530-339-3652, to sign up for the next information session.
Open University
If you are interested you may be eligible to take courses without being admitted to the University through Open University.
Contact the Redding Center
Dan Greaney, Coordinator
Office Hours: Mon, 11am-4pm; Tue, 12:10pm-6:40pm; Wed, Noon-5:30pm; Thu, 11am-4pm.
Telephone: 530-339-3652
Email: dgreaney@csuchico.edu
In addition to information about CSU, Chico programs in Redding, Dan has information about our online BA degree completion programs in Liberal Studies, Social Science, and Sociology.