Monday, May 8, 2017 - 8:00am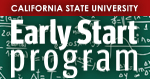 The Early Start Program (ESP) [1] is an enrollment requirement for first-time freshmen who need help getting ready for college-level English and/or math. The goal of Early Start is to better prepare you in math and English before your first semester even begins so that you have a better chance of completing a college degree.
Take a look at our schedule math and English courses and sign up today! For more information about the Early Start Program registration, visit the web site [1].