Get Started with Project Lead The Way
Joining the PLTW network means you're part of a community of K-12 PLTW schools, colleges and universities, and corporate and philanthropic partners across the country united around a passion for providing students with inspiring, engaging, and empowering learning opportunities. Once you add PLTW to your district or school, you have access to curriculum, assessments, teacher training, and ongoing program support. PLTW students are afforded a variety of opportunities including scholarships, preferred admission at colleges and universities, internships, industry connections, and avenues to highlight achievements.
Choose the Best Program(s) for Your District or School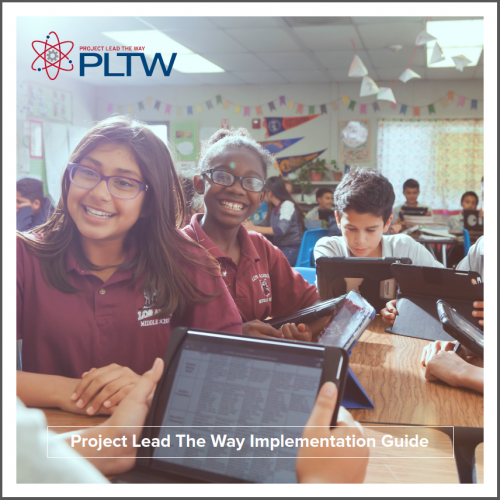 [1]Through PLTW's K-12 pathways, students learn problem-solving strategies, critical and creative thinking, and how to communicate and collaborate. Our scaffold approach helps students build on their learning process and knowledge as they progress through the PLTW curriculum, and through PLTW professional development, teachers learn to lead the engaging PLTW experience in their classrooms. PLTW offers schools and districts flexibility to customize PLTW programs according to student interest, school needs, or local and state requirements. The Implementation Guide [1] details each PLTW program and recommended approached for building the program in your district or school(s).
Select Your Program Implementation Approach
Our wide range of program implementation options gives you the flexibility to bring your PLTW program(s) to life in the way that best meets the needs and interests of your students, teachers, school, and community. This is already happening in more than 8,000 schools across the country. PLTW programs can be found in rural, urban, and suburban districts; across all income levels; as well as in public, private, and charter schools. The Implementation Guide [1] highlights implementation options and considerations for each PLTW program.
Plan for Your Program Investment
PLTW has designed an interactive, online tool to determine your PLTW investment. The PLTW Investment Tool [2] is designed to walk you through key program investment details including equipment, supplies, participation fees, and professional development.
Build Your Foundation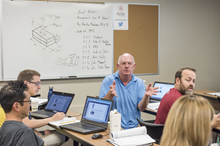 Once you select the best implementation approach for your students and school, it's time to start the process of setting up your PLTW program(s). During this process, you'll register your district and/or school with PLTW, select your teachers, order equipment and supplies, and set up your myPLTW website to access student rostering and enrollment, the myPLTW Learning Management System, Professional Learning Communities, and End-of-Course assessments. You'll have access to our team of experts throughout this entire process to provide you with guidance and answer any of your questions.
Create Your
PLTW

Community

Creating a strong PLTW community means reaching beyond the PLTW classroom to connect students and educators with a broader network of supporters. A strong PLTW community reinforces student learning, creates opportunities for student recognition, and connects the program to the rest of the school, your community, local business and industry, and the economy. The Implementation Guide [1] provides a number of ideas and resources to help you build and grow your PLTW community, including a Partnership Guide, program promotion resources, and an exciting tool to help your students showcase the STEM skills they learn through PLTW.