Thursday, November 17, 2016 -

4:00pm

-

5:30pm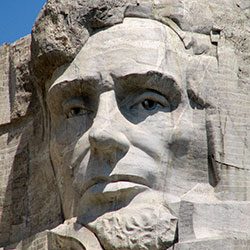 Almost everybody knows and reveres Lincoln's qualities as a great public communicator, but teachers and students sometimes struggle to identify examples of Lincoln's equally important successes as a political tactician. This webinar will use now easily accessible "private & confidential" correspondence between Lincoln and his political rivals to paint a fuller picture of his presidential leadership. Was Lincoln as honest and ethical behind-the-scenes as his popular legend suggests? How did President Lincoln overcome so much personal animosity and deep-seated resistance from his contemporaries? Join us to discover what can we learn from Lincoln's partisan style of leadership and how we might apply those lessons in today's increasingly polarized political culture.
Webinar Leader: Matthew Pinsker
Associate Professor of History, Dickinson College
Save the Date: Thursday, November 17, 2016
4–5:30PM Pacific
Register Online [1] | Use Promo Code: CSUC

[2]
Read more information about the National Humanities Center Online Professional Development Program [2] for California Teachers and how to earn university credit for your participation!