Thursday, September 29, 2016 -

4:00pm

-

5:30pm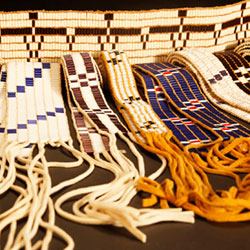 Most people think of wampum simply as Native American money, but it did not become money until European colonies adopted it as a medium of exchange. Once that happened, it spurred both Europeans and Native Americans to cross many of the cultural divides separating them, created manufacturing and trade networks throughout northeastern North America, and spawned a European cottage industry that eventually led to wampum factories in New Jersey from which it was exported to the West, where it profoundly shaped Plains Indian material culture. Join us to learn how these white and purple beads made from shells transformed both Native American and European cultures.
Webinar Leader: Paul Otto
Professor of History, George Fox University; National Humanities Center Fellow
Save the Date: Thursday, September 29, 2016
4–5:30PM Pacific
Register Online [1] | Use Promo Code: CSUC

[2]
Read more information about the National Humanities Center Online Professional Development Program [2] for California Teachers and how to earn university credit for your participation!