Thursday, March 24, 2016 -

4:00pm

-

5:30pm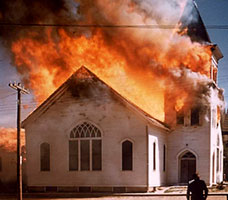 Americans once told themselves a story about the religious tolerance of the Puritans and other Europeans who fled persecution in Europe to find sanctuary in North America. Some textbooks tell that story even today. More common now, however, is a realistic portrayal of the motives and perspectives of religious Americans, from the colonial period through the twentieth century. It renders Americans considerably less tolerant than the traditional story reported. Why were Americans for so long pictured as all but free of religious intolerance? Who was intolerant and on what scale? How did American devotion to the ideal of religious freedom affect the practice of intolerance? How has intolerance survived, and why do Americans have difficulty recognizing it? And how does American difficulty in coming to terms with the complexity of its own zig-zag history of intolerance and religious freedom shape American understandings of religious conflict overseas? In a season of rhetorically charged presidential campaigning, this webinar belongs in your toolkit of perspectives.
Webinar Leader: John Corrigan
Lucius Moody Bristol Distinguished Professor of Religion Professor of History, Florida State University National Humanities Center Fellow
Save the Date: Thursday, March 24, 2016
4–5:30PM Pacific
Register Online [1] | Use Promo Code: CSUC

[2]
Read more information about the National Humanities Center Online Professional Development Program [2] for California Teachers and how to earn university credit for your participation!