Wednesday, June 1, 2016 - 8:00am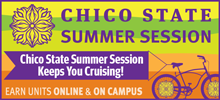 Make the most of your summer! Get closer to completing your degree, and enjoy the flexibility of an accelerated schedule. Summer Session is a great way to get the classes you need. Five Summer Session schedules are offered and classes will run from June 1 - August 16, 2016.

Summer Session is open to continuing and new CSU, Chico students, students who are not yet admitted to Chico State but plan to apply, students from other colleges and universities, international students, qualified high school seniors, and community members.

For complete information, including our schedule of classes and registration instructions, visit the Summer Session website [1].