Prime Timers' Reentry Scholarship
The purpose of this scholarship is to provide scholarship grants to assist non-traditional, re-entry students with tuition expenses. Reentry students are defined as individuals who have experienced an interruption in their education of five or more years and who want to resume their undergraduate university studies to complete their first baccalaureate degree. OLLI has a 25-year history of supporting re-entry students through the Prime Timers' Reentry Scholarship Fund, named for the learning-in-retirement program that preceded OLLI.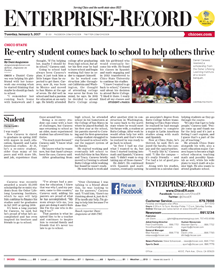 [1]Recently the Chico Enterprise Record featured a Prime Timers' Reentry Scholarship student who is on track to complete his studies at Chico State and become a teacher. Read more about this inspiring student [1] and consider donating to our scholarship fund to support more students like Daniel.