Friday, November 14, 2014
UPCEA [1], the leader in professional, continuing, and online education, announced the recipients of the 2014 Marketing Awards and CSU, Chico Regional & Continuing Education received a silver in the Strategic Recruitment Marketing Plan category. Award recipients were honored at the UPCEA 23rd Annual Marketing and Enrollment Management Seminar, on November 6 in Atlanta, Georgia.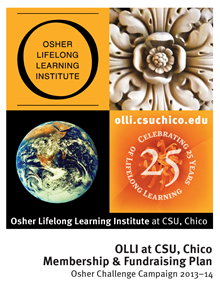 Continuing Education's submission was the for the Osher Lifelong Learning Institute (OLLI) at CSU, Chico [2]. The plan incorporates concurrent efforts to simultaneously raise a minimum of $15K in contributed revenue from at least 10% of the organizations membership, and reach a membership level sustainably exceeding 1,000 dues-paying members annually. Achieving these two goals would allow OLLI at CSU, Chico to be considered for a second $1 million endowment from the Osher Foundation, securing the ongoing viability of the organization.
The primary campaign strategy to build membership and raise funds was grass-roots outreach and promotion by OLLI's members. OLLI's monumental efforts resulted in absolute success in achieving our primary goals, as well as a number of additional positive outcomes.
"The irresistible 'challenge' aspect of the campaign triggered a spark within the organization and among OLLI members that fueled the largest increase in volunteer participation in the history of the organization," said Ann Nikolai, OLLI Program Director. "With a very small staff and extremely limited budget, this 'grass-roots' member participation was key to the successful implementation of our plan and the achieving of its goals."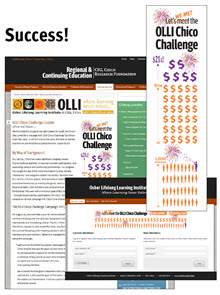 [3]
The UPCEA Marketing Awards program [4] recognizes the top marketing and creative work across the UPCEA membership. "Many creative and marketing departments are under increased pressure to deliver impactful campaigns that connect with adult learners," said Jennifer Wooley, Chair of UPCEA's Marketing, Enrollment and Student Services Network. "The submissions for this year's awards demonstrate that many of our members are accomplishing these goals."