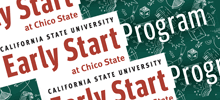 The Early Start Program at CSU, Chico [1] is an enrollment requirement for first-time freshmen who need help getting ready for college-level English and/or math. The goal of Early Start is to better prepare them in math and English before their first semester even begins so that they have a better chance of completing a college degree.
This summer, in addition to a new "hybrid" English course, Chico State will offer both one- and three-unit online math and English courses, so that whether students plan to attend CSU, Chico or any other CSU campus, they can complete Early Start from home.
Students required to complete the Early Start Program will receive notifications from the Admissions Offices of the CSU's to which they've applied. Registration for Early Start classes opens May 8. Complete information, including the class schedule [2], can be found on the Early Start website [1].