Thursday, January 9, 2014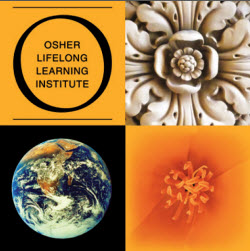 The Osher Lifelong Learning Institute (OLLI) at CSU, Chico [1] is excited to announce spring class line up at a pair of Open House & Class Preview events in Chico and Oroville. Hear from OLLI peer leaders about class content for more than 85 courses ranging from arts and literature, history, banking, social issues and current events to science, meditation, foreign languages, birding, walking, and special interest groups.
The Chico Open House & Class Preview [2] will be held January 15 from 10am-12pm at the Chico Masonic Family Center, 1110 W. East Avenue. The Oroville Open House [3] will be held January 21 from 1pm-3pm at the Butte County Library Oroville Branch, 1820 Mitchell Avenue. Both events are open to the public.
OLLI members pursue learning for pure pleasure, with no tests, no grades, and no age cap. The motto is Where Learning Never Retires and the OLLI experience proves it. This member-led organization of nearly 800 people is committed to the concept that mature adults learn best when they are active in their own learning. Students who wish to become more involved can propose topics for new courses, facilitate study groups, volunteer as weekly discussion leaders, or serve on any one of a number of committees.
The spring class schedule [4], featuring 86 academic classes, workshops, lectures, and special interest groups. Members may take classes in any one of OLLI's four locations: Chico, Oroville, Paradise, and Willows. New and renewing members are encouraged to join and/or pay membership fees [5] before class registration opens on January 22 at 9am. You can register online, in person, or by mail. To receive forms so you can register by mail, call Susan Levine at (530) 898-6679.
The Bernard Osher Foundation [6] supports a national network of 117 Lifelong Learning Institutes across the country. Be a part of the variety of learning experiences, for the pleasure of learning, and the spirit of friendship.