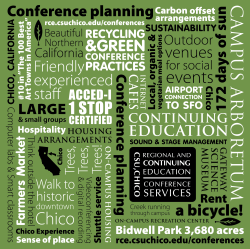 Over the next two weeks, CSU, Chico will welcome more than 600 youth and educators to three different conferences supporting quality educational programs and professional development for teachers. The first event, the Teachers' Professional Development for Inland California (Teachers' PD INC) Summer Conference, will take place July 24–25. CSU, Chico; the Yuba City Unified School District; and the Sutter County Superintendent of Schools offer the Teachers' PD INC professional development program for the 33 inland California counties from San Bernardino to Siskiyou and Modoc. The program supports innovative school improvement through teacher-driven professional development that will ultimately increase student achievement. 150 teachers and administrators will attend, including 25 teacher teams that will highlight the results of research projects in a poster session and individual team presentations.
California Youth Connection's (CYC) Summer Leadership and Policy Conference is an annual four-day long conference where CYC youth facilitators train CYC foster youth members in leadership skills, including conflict resolution, community organizing, and facilitation skills. The conference, being held July 26-29, is sponsored by Glenn County Foster Youth Services Chapter, with support from the Butte County Chapter. The Foster Youth Committee at CSU, Chico, which has spearheaded efforts to connect foster youth with higher education opportunities in the north state, is also sponsoring the Youth Policy Recommendations for Youth Professionals on Monday, July 29. The public is invited to attend Monday's policy presentations and discussion in the Bell Memorial Union; registration begins at 10am.
On August 5–6, the campus will host the Surf's Up! 2013 After School Professional Development Institute. The seventh annual conference, hosted by the Butte County Office of Education—Learning Support Region 2, is an opportunity for 275 North State after school professionals to network, attend engaging workshops and training sessions, and gain skills to help them excel in their profession. The event will focus on best-practice teaching strategies and hands-on activities that after school staff can use in their own programs, while providing ways to make academic a nd enrichment content both fun and informative for kids.
Debra Barger, Dean of the Center for Regional and Continuing Education which houses CSU, Chico Conference Services and Event Management, is pleased to welcome these three groups to campus. "Each of these events exemplifies the University's values of academic excellence, applied learning, and diversity," says Barger. "The energy, enthusiasm, and commitment of each and every person to support the youth of the state of California are inspiring. Their love of learning – both their own and of their students – is contagious!"
Additional information about these events is available by calling Regional & Continuing Education at 530-898-6105.