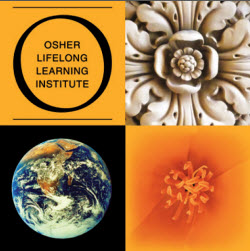 The Osher Lifelong Learning Institute (OLLI), celebrating 25 years at CSU, Chico is now taking reservations for its first Summer Lecture Series featuring community experts in art, psychology, theology, financial health, and communication. Attendees can sign up for individual lectures or series of topics.
There are five topics scheduled during the months of June and August:
Change Your Brain, Change Your Thinking, Change Your Life ~ Dr. Joni Samples
Word-Play: A Crash Course in Speaking from the Heart ~ Meagan Fischer
Theology of Homelessness ~ Bill Such, Executive Director, Jesus Center
Hands on Art ~ Jane Zambory
Rethinking the American Dream in the New Economy ~ Red Rock Financial Team
Program descriptions and a registration form can be found on the OLLI website [1].
About OLLI
The Osher Lifelong Learning Institute (OLLI) at CSU, Chico celebrates 25 years of lifelong learning this fall with more than 80 non-credit classes and activities free from the pressure of grades or exams. OLLI is a peer-led, learning in retirement organization offering the opportunity for adults 50+ or retired to stay sharp and engaged with talented and interesting people. With locations in Chico, Oroville, Paradise, and Willows, OLLI offers a unique way for you to explore new topics, discuss current events, network with community members, travel, and make new friends. To find out how you can become part of this unique learning community where learning never retires, visit our website at olli.csuchico.edu [1] or call (530) 898-6679. Registration for fall classes opens August 15. Classes start September 3.